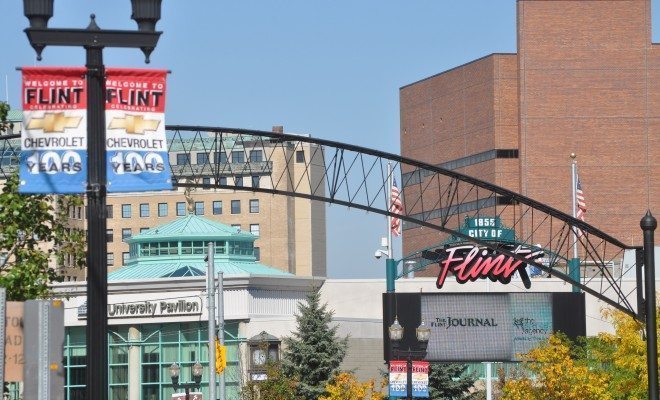 Image courtesy of [Michigan Municipal League via Flickr]
Politics
How Has the Nation Responded to Flint's Cries for Help?
By
|
By now everyone has heard about the current water crisis in Flint, Michigan. The city's drinking water has been contaminated with lead, making it harmful and potentially life-threatening to drink, and almost everyone is pointing fingers in an attempt to find someone to blame for this catastrophic event. All across the country, people have taken to social media to protest what they feel has been a complete failure on the part of Flint's government. But it's kind of hard to tell whether or not the situation is actually getting any better.
#FLINT: "a staggering level of ineptitude, if not criminal negligence."

— Bette Midler (@BetteMidler) January 23, 2016
It's a shame that one of the recent hostages is a Flint resident, and he had better water when he was captive than when he got home #TeamDl

— DL Hughley (@RealDLHughley) January 23, 2016
Photos of a local poster began circling the internet after being taken down by the State of Michigan due to backlash from the community. The poster–which featured two adorable babies bathing, along with messages confirming it was okay to wash your children in Flint water just as long as they didn't accidentally drink it–is a shining example of just why everyone is so riled up. The situation is horrifying and negatively affecting some of the most helpless residents in Flint. Even the Girl Scouts of America have voiced their concerns, proving that this water crisis is an issue affecting everyone.
The government in Flint has been working to raise money and support for its city, even reaching out to President Obama in an attempt to have the Flint crisis declared a federal disaster so they can receive federal funding to try to remedy the situation. The President denied federal disaster status, but did give the city emergency funds of $5 million dollars. Unfortunately for Flint, that money boils down to almost nothing in the grand scheme of things, so Governor Rick Snyder has appealed his case to President Obama, hoping to have the status of the Flint emergency reconsidered. Some have estimated the city is going to need as much as $1 billion dollars in the upcoming year after looking at just how deep this lead-filled water problem goes.
The good news is people are stepping up to help the residents of Flint. Celebrities are reaching out and using their star power to donate money and water to the cause.
Pearl Jam donate $300,000 to city of Flint, Michigan amid water crisis: https://t.co/uNddI1WDsC pic.twitter.com/tWGeReyaAQ

— Consequence of Sound (@coslive) January 23, 2016
Big Sean Is Donating $10,000 To The Kids Of Flint — And You Can Help, Too https://t.co/gtMRv3wTDN

— MTV (@MTV) January 23, 2016
Jimmy Fallon donates $10,000 to Flint charity during city's ongoing water crisis https://t.co/brHFjUKAJBpic.twitter.com/Jpe1Y57IbL

— TIME.com (@TIME) January 25, 2016
A firefighter in Chicago, who was horrified to hear about the water conditions in Flint, decided to start asking for water bottle donations, and has collected over 130 cases of water; he plans to drive them to Flint at the end of the week. Residents of Western Michigan have banded together to gather water testing kits, water filters, bottled water, and money to donate to the city in addition to sending over 200 volunteers to help hand out supplies to local Flint citizens with no access to clean drinking water. Even people outside of the Midwest have been helping out by starting dozens of GoFundMe pages to raise money for the city–and the results have been staggering.
It really is heartwarming to see how many people nation-wide are helping Flint without any reservations, which will be instrumental in sustaining the people of Flint until this crippling problem is resolved. Hopefully, with some hard work, financial support, and a new plan for handling the water supply, Flint residents will soon have the clean water they deserve. Until then, it's time to keep the altruistic spirit of volunteerism alive and help out our friends in need.