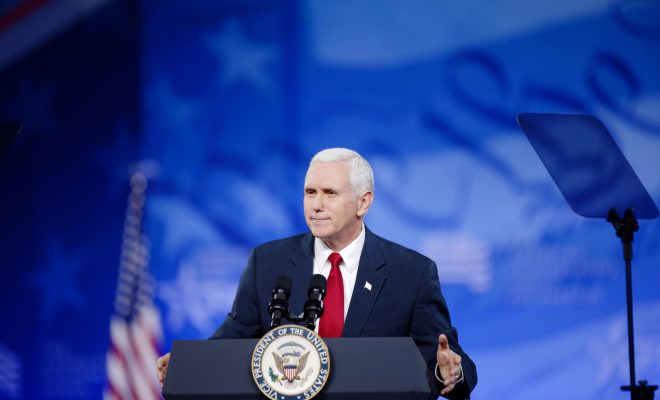 Image courtesy of Michael Vadon; license: (CC BY 2.0)
Politics
Mike Pence Casts Tie-Breaking Vote Allowing States to Defund Family Planning Services
By
|
In a Senate vote on Thursday, Vice President Mike Pence stepped in and broke the 50-50 tie in favor of getting rid of an Obama-era rule that prohibits states from defunding health care providers for political reasons. Even after the Republicans managed to bring in Senator Johnny Isakson from Georgia, who is recovering from two back surgeries and had to use a walker and wheelchair, the vote ended in a 50-50 tie. Republicans Lisa Murkowski and Susan Collins, both known as moderates, joined the Senate Democrats and Independents in voting against the measure. Pence then cast the deciding vote.
Democrats criticized the GOP for the move, with Senator Patty Murray of Washington saying that the Democrats would spend Thursday afternoon speaking out against it. Doing this "would undo a valuable effort by the Obama Administration to ensure that health care providers are evaluated for federal funding based on their ability to provide the services in question, not on ideology," she said.
Pres Trump is so focused on attacking women's health, he sent women's health advisor—@VP Pence—to break a tie vote on latest attack. #TitleX https://t.co/QOBHpY76Oz

— Senator Patty Murray (@PattyMurray) March 30, 2017
There was a procedural vote earlier in the day that also required Pence's tie-breaking powers. The new measure will use the Congressional Review Act to repeal a rule that the Obama Administration introduced late last year that prohibits states from blocking Title X funding to healthcare providers that offer abortion services.
Title X is the only federal grant program where money goes exclusively to family planning and reproductive health services for low-income people and those without insurance. It dates back to the 1970s and President Richard Nixon. Title X money makes sure patients can go get tested for STDs or HIV, cancer screenings, treatments, and birth control. However, the Hyde Amendment prevents federal money from being used for abortions.
But, if the Republicans get their way, states will be able to withhold federal money from going to any family planning service that offers abortions at all, even if the money wouldn't be used for abortion services. Republicans argued that Obama's requirement that states distribute money to healthcare providers regardless of whether they also perform abortions hurt small, local communities. How and why is unclear. "It substituted Washington's judgment for the needs of real people," said Majority Leader Mitch McConnell on Thursday.
Obviously a lot of women and Democrats did not agree with this and spoke out forcefully on social media.
The VP was sent to break a tie vote on #TitleX.

Amazing what GOP leaders will do to make sure women's health centers don't get funded. https://t.co/SoHVxURl6H

— Kirsten Gillibrand (@SenGillibrand) March 30, 2017
Title X is a bipartisan program to provide birth control, cancer screenings & HIV tests, & @VP Pence cast the tiebreaking vote attacking it

— Elizabeth Warren (@SenWarren) March 30, 2017
When politicians interfere in women's personal health decisions, women get hurt. Call your senator: https://t.co/V1XhwtywtW #TitleX

— Cecile Richards (@CecileRichards) March 30, 2017
Many women also took issue with the fact that Mike Pence received an award last week from the Independent Women's Forum. That organization was formed after law professor Anita Hill accused Supreme Court Justice Clarence Thomas of sexual harassment in the 1990s. But it's important to note that IWF formed because they didn't believe Hill, which makes it less surprising that the group would award Pence for his work on behalf of women.