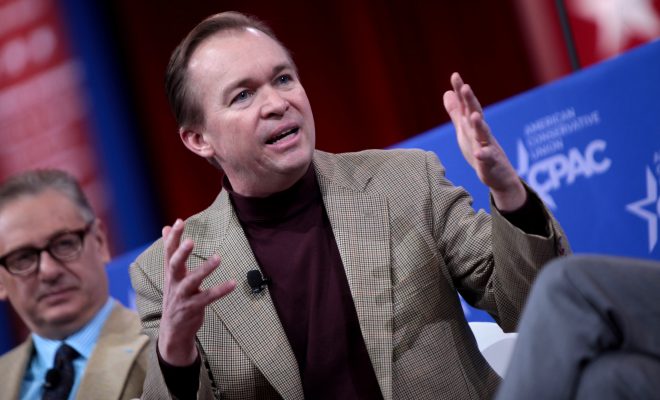 "Mick Mulvaney" courtesy of Gage Skidmore; license:  (CC BY-SA 2.0)
Politics
Mick Mulvaney: No Evidence After-School Meals or Meals on Wheels Work
Donald Trump's new budget proposal includes huge cuts to many agencies and organizations that do great things, such as the EPA, the UN, and the World Bank. But the budget would also make significant cuts to social welfare programs, including Meals on Wheels, which delivers food to senior citizens who are unable to shop or cook themselves. Cuts would also apply to after-school programs that feed poor children.
In a press conference on Thursday, budget chief Mick Mulvaney defended the budget outline. He said that Meals on Wheels "sounds great" but that it's unfair to taxpayers to use their money for something that doesn't have a proven effect. He even called the decision to cut Meals on Wheels "one of the most compassionate things we can do."
Trying to explain his viewpoint, Mulvaney told reporters that they are focusing only on the recipients of the money, while they should be focusing on the poor people that give their hard earned money. "And I think it's fairly compassionate to go to them and say, 'Look, we're not going to ask you for your hard-earned money anymore… unless we can guarantee to you that that money is actually going to be used in a proper function," he said. Per the budget draft those "proper functions" mostly involve national security.
Mulvaney's comments led to some angry comments on social media.
@ParaComedian09 People living is the god damn result

— Erin M Barlow (@ErinMBarlow) March 16, 2017
Mick Mulvaney says Meals on Wheels "not showing any results." Actual peer-reviewed research says otherwise. https://t.co/B6ZRxtWIAf pic.twitter.com/YI6jiAgMBk

— Christopher Ingraham (@_cingraham) March 16, 2017
The Mick Mulvaney presser right now has made it clear that Republicans have become the party of cruelty. Sad for America.

— Wajahat Ali (@WajahatAli) March 16, 2017
Mulvaney also implied that he doesn't see any proof that a well-fed child does better in school than a hungry one. The new budget would cut after-school programs, which often provide food for poor kids so that they can perform better in school. "They're supposed to help kids who don't get fed at home get fed so they do better in school. Guess what? There's no demonstrable evidence they're actually doing that," he said.
That Mulvaney wants to deprive children who might not get enough food at home from a meal at school was just too much for some.
OMB Director Mick Mulvaney is shameless: "No evidence free meals to kids improves performance" https://t.co/yzDerB7tb0

— Aaron Vallely (@Vallmeister) March 17, 2017
you, a hungry child: "please sir, can i have breakfast"

me, a mick mulvaney: "that's not efficient"

— Jamelle Bouie (@jbouie) March 16, 2017
If Mulvaney needs some proof for why Meals on Wheels is a good idea, the nonprofit group itself can provide it. The group's workers provide food for more than 2.4 million seniors every year. A 2013 study showed that the home-delivered meals "significantly improve diet quality, increase nutrient intakes, and reduce food insecurity and nutritional risk among participants. Other beneficial outcomes include increased socialization opportunities, improvement in dietary adherence, and higher quality of life." Also, by making sure these citizens get fed, Meals on Wheels makes sure that they don't need to move into a nursing home just yet. That's a pretty good way to save money on healthcare.
And it comes to those after-school programs, it's important to note that as many as 21 percent of kids in the U.S. live in poverty, according to the National Center for Children in Poverty. Many kids even get the majority of their meals at school. "Recent studies have demonstrated that nutrition affects students' thinking skills, behavior, and health, all factors that impact academic performance," a 2014 study from Wilder Research stated, which makes sense to anyone who has ever tried to work on an empty stomach.
These kids are the people that will make up the workforce in a couple of years. Insufficient nutrition will definitely not help them excel academically, or physically for that matter. If this kind of thinking doesn't change soon, the future of this country doesn't look very bright.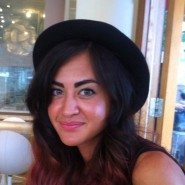 Emma Von Zeipel is a staff writer at Law Street Media. She is originally from one of the islands of Stockholm, Sweden. After working for Democratic Voice of Burma in Thailand, she ended up in New York City. She has a BA in journalism from Stockholm University and is passionate about human rights, good books, horses, and European chocolate. Contact Emma at EVonZeipel@LawStreetMedia.com.