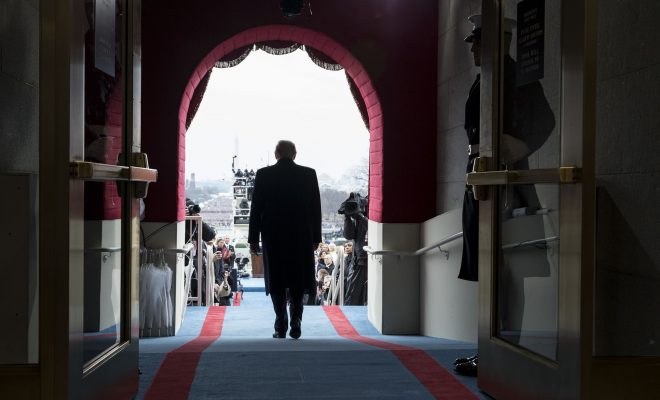 Image Courtesy of The White House; License: public domain
Politics
Mueller's Apparent Obstruction of Justice Investigation: What You Need to Know
By
|
Late Wednesday, a variety of news outlets published reports that Robert Mueller, the special counsel appointed to investigate Russian meddling in the 2016 election, requested interviews with a trio of current and former intelligence officials.
The news was first reported by the Washington Post, and later by the New York Times. It came from anonymous sources and fueled speculation that Mueller is widening his investigation to determine whether President Donald Trump, in firing Comey last month, obstructed justice. On Thursday morning, Trump tweeted that the obstruction of justice probe is a "phony story" created by "conflicted" people:
They made up a phony collusion with the Russians story, found zero proof, so now they go for obstruction of justice on the phony story. Nice

— Donald J. Trump (@realDonaldTrump) June 15, 2017
You are witnessing the single greatest WITCH HUNT in American political history – led by some very bad and conflicted people! #MAGA

— Donald J. Trump (@realDonaldTrump) June 15, 2017
Deputy Attorney General Rod Rosenstein selected Mueller to lead the investigation last month, soon after Trump fired Comey, who at the time was heading the FBI's inquiry into Russia and its potential links to the Trump campaign. Testifying in front of the Senate Intelligence Committee–which is conducting its own investigation into Russia's interference–last week, Comey said a number of private meetings with the president led him to document the encounters.
"I was honestly concerned that he might lie about the nature of our meeting, and so I thought it really important to document," Comey said.
In his retelling of the events, Comey recalled Trump said he "hoped" that he would shutter the FBI's investigation into former National Security Adviser Mike Flynn. This, some observers have said, might amount to a case against Trump for obstructing justice. The Post's report does indicate Mueller is indeed investigating the matter in terms of potential obstruction, but it does not mean that Trump is guilty of any misdeeds.
"This unfounded accusation against the president changes nothing," the RNC said in a statement in response to the Post's story, despite the fact that Mueller has yet to level any accusations against the president. "There's still no evidence of obstruction, and current and former leaders in the intelligence community have repeatedly said there's been no effort to impede the investigation in any way."
According to the anonymous source, Mueller will interview three current and former high-ranking intelligence officials: Director of National Intelligence Dan Coats, NSA Director Mike Rogers, and former deputy director of the NSA Richard Ledgett.
Rogers has publicly acknowledged that he had never felt pressured to end the FBI's probe into Flynn. During a hearing last week, he said:
"I have never been directed to do anything I believe to be illegal, immoral, unethical or inappropriate," Rogers said. "And to the best of my recollection, during that same period of service, I do not recall ever feeling pressured to do so."