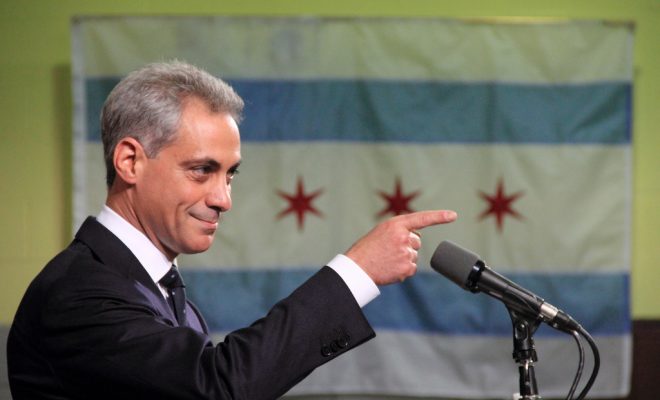 "Rahm Emanuel, Pointing, With Chicago Flag in Background" courtesy of Daniel X. O'Neil; License: (CC BY 2.0)
Politics
Mayors Defend 'Sanctuary Cities' Amid Trump's Threat to Pull Funding
By
|
On President-elect Donald Trump's first day as commander in chief, he will "cancel all federal funding to Sanctuary Cities," according to his "First 100 Days" plan. On Monday, a cohort of Democratic mayors in major cities across the United States stood firm in their cities' practices, despite Trump's plan and tough rhetoric on illegal immigration.
"Seattle has always been a welcoming city," Seattle Mayor Ed Murray said on Monday. "The last thing I want is for us to start turning on our neighbors." Murray was part of a chorus of mayors, including those from New York City, Chicago, Providence, and San Francisco, of so-called "sanctuary cities."
There is no legal definition for the phrase "sanctuary city." It does not mean, as its wording might suggest, that undocumented immigrants who commit crimes enjoy shelter and coverage from U.S. Immigration and Customs Enforcement (ICE) officials, who are in charge of deportation operations.
Jurisdictions with "sanctuary" policies essentially resist cooperation with ICE. For instance, when ICE requests an "immigration detainer," a notification that state or local law enforcement agency is releasing a "criminal alien," jurisdictions with "sanctuary" policies often refuse to comply with ICE's request. The Texas Tribune found that between January 2014 and September 2015, jurisdictions declined 18,646 "immigration detainer" requests from ICE.
A murder in 2015 renewed the debate on "sanctuary cities" and provided evidence to those who argue that cities with such policies are a danger to society. Juan Francisco Lopez-Sanchez, an illegal immigrant living in San Francisco, shot and killed a woman named Kate Steinle. Officials in San Francisco, a city that has had "sanctuary"-like policies for years, were criticized because they had not disclosed Lopez-Sanchez's release from prison to ICE just a few weeks before he killed Steinle. He had also been deported to Mexico five times before.
Trump recently addressed how his administration will tackle immigration in an interview with 60 Minutes that aired on Sunday: "What we are going to do is get the people that are criminal and have criminal records, gang members, drug dealers, where a lot of these people, probably 2 million, it could be even 3 million, we are getting them out of our country or we are going to incarcerate."
It is unclear where Trump found those statistics, or how he will go about rounding up undocumented immigrants who have committed a crime, or even to what qualifies as a crime worthy of deportation. But as it stands, 300 jurisdictions currently have "sanctuary"-like policies and might continue refusing co-operation with the federal government.
Mayor Rahm Emanuel of Chicago doubled down on his city's commitment to remaining a "sanctuary city," regardless of what Trump claims he will do. "To all those who are, after Tuesday's election, very nervous and filled with anxiety … you are safe in Chicago, you are secure in Chicago and you are supported in Chicago," Emanuel said at a news conference. "It always will be a sanctuary city."
The mayors' calls of reassurance come at a time of great anxiety for many people following Trump's ascendance to the White House. His inflammatory rhetoric, while short on concrete policies to back up his words, has many people unsure what the future holds.