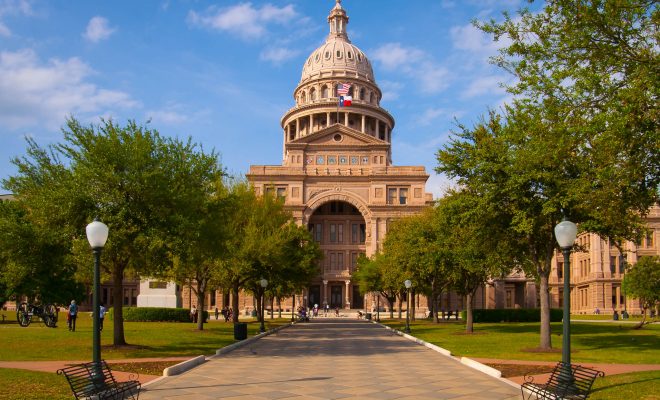 "Texas State Capitol" courtesy of Stuart Seeger; license: (CC BY 2.0)
Politics
Matt Rinaldi: The Texas Republican Who "Reported" Protesters to ICE
By
|
Immigration issues were on the docket for Texas lawmakers on Monday, and protesters were present throughout the day. But one lawmaker, Republican state representative Matt Rinaldi, shocked his colleagues when he said that he reported the protesters to Immigration and Customs Enforcement. It was the final day of an intense four-month session debating sanctuary cities, and over 1,000 demonstrators showed up to protest a new state law that makes it illegal for local law enforcement to refuse to comply with immigration laws and detention requests.
Rinaldi told his colleagues that he had reported the protesters to ICE as he believed they were undocumented immigrants. He allegedly said, "We are going to have them deported," followed by an obscenity. Democrats were shocked by Rinaldi's comments. "He assumed that because they were brown, in the gallery and protesting that they were here illegally," said Representative César J. Blanco.
VIDEO: Lawmakers in Texas House scuffle during #SINEDIE on Monday.
BACKGROUND: https://t.co/q77vMguaXh pic.twitter.com/zlAGEaL0pB

— KVUE News (@KVUE) May 29, 2017
Some lawmakers were upset by Rinaldi's behavior and a scuffle and some finger pointing ensued. Rinaldi claimed that Democratic Representatives Poncho Nevárez and Ramon Romero threatened his life and physically assaulted him. But according to others, Rinaldi was the one making the threats. "There was a threat made from Rinaldi to put a bullet in one of my colleagues' heads," said Representative Justin Rodriguez, also a Democrat.
Man, Texas knows how to protest. pic.twitter.com/976zeoxYNL

— john r stanton (@dcbigjohn) May 29, 2017
Now they have a case of "he said, he said"–Nevárez said he never threatened Rinaldi. Rinaldi claimed he saw protesters holding signs saying, "I am illegal and here to stay" and that some of the Democratic lawmakers encouraged them. Blanco said he didn't see any signs of that nature. ICE didn't confirm whether or not it sent officials to Austin. But Blanco blamed President Donald Trump's rhetoric for the conflict, saying that the president promotes hate speech:
The Trump rhetoric is trickling down and allowing current elected officials and candidates to resort to racism and violence making it sound like it was O.K. This has to stop. It is not what our country or what Texas is about.
Members of the Texas House Mexican-American Legislative Caucus said at a press conference on Monday that Rinaldi approached them repeatedly just to tell them he had called ICE. "F*ck them, I called ICE," were his specific words, according to several members. Rinaldi said the protesters broke the law. But the chairman of the caucus, Rafael Anchía, said he simply saw Texans exercising their First Amendment rights.
The new law banning sanctuary cities, Senate Bill 4, will go into effect in September. Several law enforcement agencies opposed the law, and citizens have continued to protest it even after Governor Greg Abbott signed it.