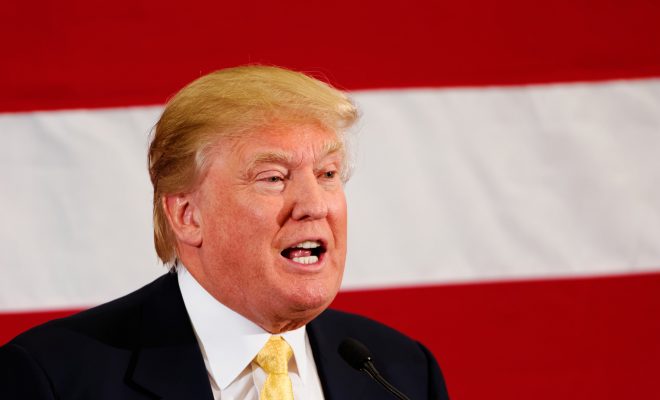 Image Courtesy of Michael Vadon; License: (CC BY-SA 2.0)
Politics
Maryland and D.C. Sue Trump, Alleging He Violated Constitution's Anti-Corruption Clauses
By
|
The attorneys general for Maryland and Washington D.C. filed a lawsuit Monday against President Donald Trump, alleging that he violated the Constitution's anti-corruption clauses by accepting payments from foreign governments since taking office.
This is the first time a state has filed a lawsuit against a president for violating the Constitution's emoluments clause. While Trump has said that he would transfer his business assets to a blind trust, the lawsuit is centered on the claim that Trump has continued to retain ownership of his vast business portfolio while getting updates from his two sons.
The lawsuit, filed in the U.S. District Court for the District of Maryland, will require the court to answer whether Trump has violated either the domestic or foreign emoluments clauses.
Both clauses ban any "person holding any Office of Profit or Trust" from receiving any payment from foreign countries or from any of the 50 states without approval from Congress. The founding fathers set up the clauses to limit the influence a foreign country or an individual state could wield over the president.
In a copy of the lawsuit provided to the Washington Post, D.C. Attorney General Karl A. Racine and Maryland Attorney General Brian E. Frosh claim that Trump's global business has him "deeply enmeshed with a legion of foreign and domestic government actors."
The suit also alleges that businesses in both Maryland and D.C. have been harmed by Trump's tendency to utilize his own convention centers and properties, such as the Trump International Hotel in D.C. The suit says that hotel payments, tax breaks, and permits all count as domestic emoluments received by Trump, according to CNN Money.
If the lawsuit progresses, the two officials say their first step will be to demand Trump's personal tax returns in order to gauge the severity of his behavior.
This is the latest in a series of lawsuits attempting to test Trump's conflicts of interest. Citizens for Responsibility and Ethics in Washington (CREW), a D.C.-based group, and Cork Wine Bar had previously filed lawsuits against the president.
The Trump Organization, though, argues that everything is perfectly legal. In a response to CREW, the Justice Department argued that the lawsuit should be dismissed because Trump may legally accept "market-rate payments" for Trump's real estate, hotel, and golf companies. They even cited George Washington selling farm produce as a previous example in their 70-page response.
Disappointed with the lack of inquiry from Congress, Racine and Frosh felt compelled to file their own lawsuit.
"We're getting in here to be the check and balance that it appears Congress is unwilling to be," Racine said.
The attorneys general feel confident that they have the standing to sue because Maryland and D.C. entered a contract, the Constitution, that Trump has violated by accepting gifts.
So while Trump faced plenty of lawsuits before his presidency and a handful since, this lawsuit represents a big moment in the early months of his administration. Trump's foreign business dealings and potential conflicts of interest have been controversial since the campaign, but now D.C. and Maryland are demanding transparency within the Trump Administration to ease citizens' concerns.
"This case represents another storm, not just a dusting of snow, but a blizzard of trouble for Trump," Norman Eisen, who served as the chief White House ethics lawyer for President Barack Obama and is CREW's board chairman, said. "Who better than governmental actors to say our deal was, our fundamental democratic bargain was, we would get a president who would follow the Constitution."