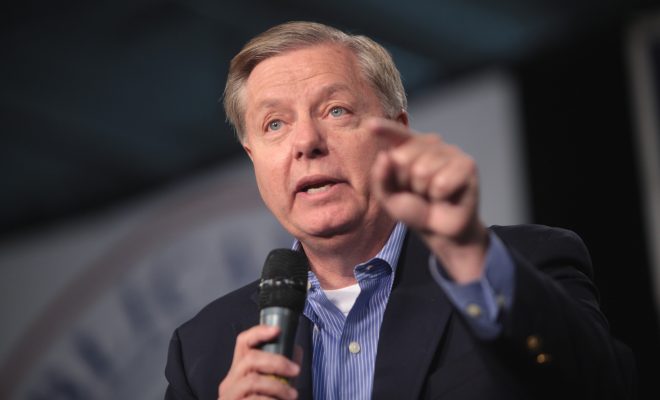 Image Courtesy of Gage Skidmore; License: 

(CC BY-SA 2.0)
Politics
Lindsey Graham: If Trump Fires Sessions, "There Will be Holy Hell to Pay"
By
|
Senator Lindsey Graham (R-SC) made it clear on Thursday what would happen if President Donald Trump fires his attorney general, Jeff Sessions. "If Jeff Sessions is fired, there will be holy hell to pay," he told CNN. Graham also said he is looking to introduce legislation next week that would block the firing of special counsels without a judicial review.
Rumors have been swirling around Capitol Hill this week that Trump is looking to dispose of Sessions and Robert Mueller, the special counsel appointed to investigate Russia's election interference, and any potential links between the Kremlin and the Trump campaign.
"This effort to basically marginalize and humiliate the attorney general is not going over well in the Senate," Graham told CNN. "If you believe Jeff Sessions should be fired, use the power you have and accept the consequences."
On Monday, Trump fired off a tweet calling Sessions "beleaguered," asking why he has not looked into "Crooked Hillarys [sic] crimes & Russia relations." Trump is reportedly upset that Sessions recused himself from the Russia investigation, which left an opening filled by Mueller, a widely respected prosecutor who Trump is also unhappy with.
Attorney General Jeff Sessions has taken a VERY weak position on Hillary Clinton crimes (where are E-mails & DNC server) & Intel leakers!

— Donald J. Trump (@realDonaldTrump) July 25, 2017
Sessions was one of Trump's earliest advocates, and the first senator to embrace his candidacy. The attorney general has also faithfully pursued Trump's campaign vision–perhaps more than any other cabinet appointee–adopting a hard-line immigration stance and a law and order philosophy on crime.
Republican senators rushed to Sessions' defense following Trump's Twitter barrage. They were joined by some Democrats, like Senate Minority Leader Chuck Schumer, who warned that firing Sessions could provoke a "constitutional crisis." Others said it would further prove that Trump is guilty of obstruction of justice in the investigations involving Russia and his campaign.
Sessions had been largely mum on the topic of his potential firing until Thursday afternoon. In an interview with Fox, he called Trump's attacks "hurtful," but said that Trump "is determined to move this country in the direction he believes it needs to go to make us great again." He added that Trump "wants all of us to do our jobs and that's what I intend to do."
Graham's legislation would essentially make it more difficult for Trump, and future presidents, to fire a special counsel, which includes Mueller. Dismissing a special counsel would require a judicial review to determine if reasons behind the firing "meet the statutory definitions," Graham said.
The effort is likely to be a bi-partisan endeavor. Graham's Democratic colleagues on the Senate Judiciary Committee, Senator Sheldon Whitehouse (D-RI) and Senator Richard Blumenthal (D-CT) have said they are working on the bill. Blumenthal said it "might be a committee effort," adding that firing Mueller "would precipitate a firestorm that would be unprecedented in proportions."