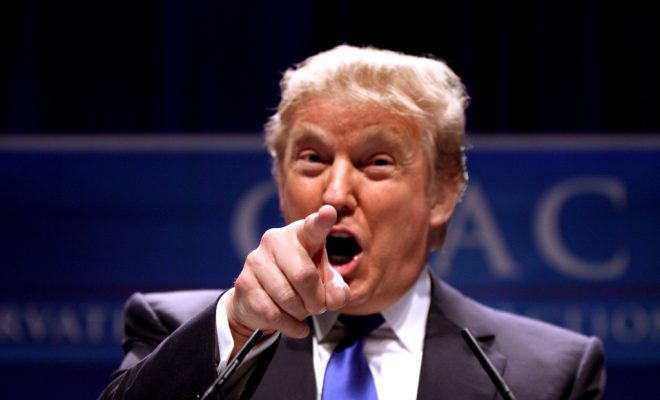 Image Courtesy of Gage Skidmore; License: (CC BY-SA 2.0)
Politics
Trump Defends Michael Flynn, Attacks Reporters at Press Conference
By
|
In a press conference on Thursday afternoon, President Donald Trump careened from topic to topic, repeatedly told reporters to "sit down," and boasted that his administration is running "like a fine-tuned machine." He also announced his new selection for labor secretary, Alexander Acosta, who will be replacing Trump's first choice for the post, Andrew Puzder, after it appeared Puzder would not be able to secure enough confirmation votes.
Trump used the press conference as a stage to air grievances that have been bubbling during his three and a half weeks in office. After announcing Acosta's nomination, and admonishing the "mess" he inherited as president, Trump engaged reporters in a combative back-and-forth, in which he called for "friendly" questions and told reporters who asked him tough questions that their ratings were bad.
Trump deflected questions about former National Security Adviser Michael Flynn–who recently resigned amid reports that he misled Vice President Mike Pence about the true nature of his phone calls with the Russian ambassador–and instead called the reports "fake news." He also said Flynn is a "fine person." Referring to the classified information about Flynn's call that leaked to the news media, Trump continued:
It's all fake news. It's all fake news. The nice thing is, I see it starting to turn, where people are now looking at the illegal — I think it's very important — the illegal, giving out classified information. It was — and let me just tell you, it was given out like so much.
Trump was also asked if anyone in his administration had contact with Russia during the campaign. "Nobody that I know of," he said, adding that he had "nothing to do" with Russia's election hacking or WikiLeaks. Trump said the roll-out of his executive order that barred travel from seven countries–which a federal court temporarily froze–was "very smooth." At one point, contrary to some reports, Trump claimed: "This administration is running like a fine-tuned machine."
Before Trump began to riff on a menagerie of topics, he named Acosta as his pick for the new head of the Labor Department. Acosta has been the dean at Florida International University School of Law since 2009. He is a former member of the National Labor Relations Board, and a former clerk of Supreme Court Justice Samuel Alito from when he sat on the Court of Appeals for the Third Circuit. If confirmed, Acosta, the son of Cuban immigrants, would be the first Hispanic member of Trump's cabinet.
Acosta was quickly chosen after Puzder withdrew his nomination on Wednesday. Despite unusually stiff opposition to a number of Trump's cabinet appointees, Puzder seemed to be the first to potentially fail a confirmation vote. At least four Republican Senators signaled that they would oppose Puzder, who in recent weeks came under intense fire for personal matters, and for his labor practices as head of fast-food chains Hardee's and Carl's Jr.
But what started as a fairly typical speech soon devolved into a shouting match between the president and reporters; the dais became a medium for Trump to flood the briefing room with a barrage of half-baked claims and some outright falsehoods. Trump said his Electoral College victory was the largest since President Ronald Reagan in 1984. NBC reporter Peter Alexander corrected Trump, informing him that Presidents George H.W. Bush and Barack Obama won by a greater margin in 1988 and 2008 respectively.
"Why should Americans trust you?" Alexander asked. "I was given that information," Trump responded. "I don't know. I was just given it. We had a very, very big margin." He continued: "Actually, I've seen that information around. But it was a very substantial victory. Do you agree with that?"
Toward the end of the press conference, Trump said he is "the least anti-Semitic person you've ever seen in your entire life," in response to a question about the increase in anti-Semitic incidents reported in the U.S. after Election Day. April Ryan, an African-American reporter from American Urban Radio Networks, asked Trump about his agenda to help inner-cities, and if he would seek Congressional Black Caucus input. "Do you want to set up the meeting?" Trump replied. "Are they friends of yours?"