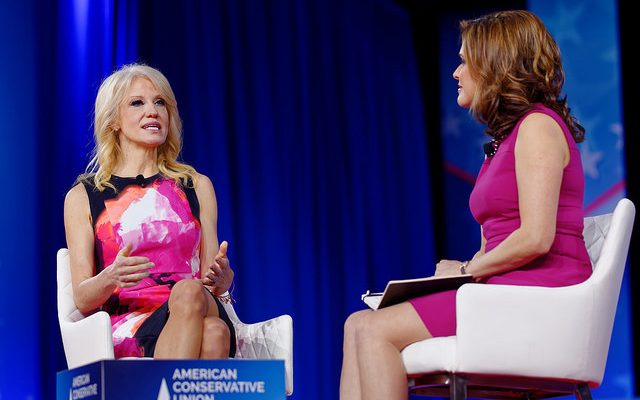 "Kellyanne" Courtesy of Michael Vadon: License (CC by 2.0)
Politics
Kellyanne Conway's Husband Critiques Trump's Tweets
By
|
Kellyanne Conway's husband, George Conway, sent out a critical tweet of President Donald Trump after the president reiterated his commitment to his "original travel ban."
These tweets may make some ppl feel better, but they certainly won't help OSG get 5 votes in SCOTUS, which is what actually matters. Sad. https://t.co/zVhcyfm8Hr

— George Conway (@gtconway3d) June 5, 2017
Trump's original tweet compelled Conway to tweet for the first time since retweeting a video about suspending New York Giants star wide receiver Odell Beckham Jr. on December 20, 2015.
Conway believes that while Trump's tweets on the ban may appeal to his voter base, it isn't the right decision in terms of garnering the right number of votes to win a case in the Supreme Court.
Conway's outburst comes within the same week that he chose not to pursue the position of leading the Civil Division at the U.S. Department of Justice, according to Politico.
"I have reluctantly concluded, however, that, for me and my family, this is not the right time for me to leave the private sector and take on a new role in the federal government," he said in a statement.
While many people interpreted Conway's tweet as a swipe at Trump, he attempted to clarify his comment in a string of four tweets. Conway explained that he still supports the Trump Administration, but that most lawyers would agree with him that Trump's tweets on legal matters "undermine the Admin agenda and POTUS."
1) Just to be clear, and in response to inquiries, I still VERY, VERY STRONGLY support POTUS, his Admin, policies, the executive order …

— George Conway (@gtconway3d) June 5, 2017
Earlier in the day, Kellyanne, a counselor to the president, had made an appearance on NBC's "Today" criticizing "this obsession with covering everything he says on Twitter and very little what he does as president," according to US News and World Report.
Apparently her husband disagrees and finds Trump's tweets important. The president's tweets created a reaction even without George Conway's critique.
While Sean Spicer, the White House press secretary, had previously claimed that Trump's executive order was "…not a Muslim ban. It's not a travel ban," according to The Hill, the president has reverted to using the word "ban."
People, the lawyers and the courts can call it whatever they want, but I am calling it what we need and what it is, a TRAVEL BAN!

— Donald J. Trump (@realDonaldTrump) June 5, 2017
Trump proceeded to call it a travel ban in four other tweets since June 3.
With his executive order set to be heard in the Supreme Court, many lawyers agree with Conway and feel that the president has greatly damaged his court case. Josh Blackman, a professor at South Texas College of Law in Houston told the New York Times:
These difficulties are amplified exponentially when the client is the president of the United States, and he continuously sabotages his lawyers, who are struggling to defend his policies in an already hostile arena. I do not envy the solicitor general's office.
George Conway has been a partner at the corporate law firm Wachtell, Lipton, Rosen & Katz since January 1994 and won a case at the Supreme Court with Morrison v. National Australia Bank, according to CNN.
Conway was also considered for solicitor general in January 2017 after Trump had won the election. Despite his marriage to Kellyanne, his potential position in the government would not have been nepotism because neither one would have held direct authority over the other, according to The New York Times.