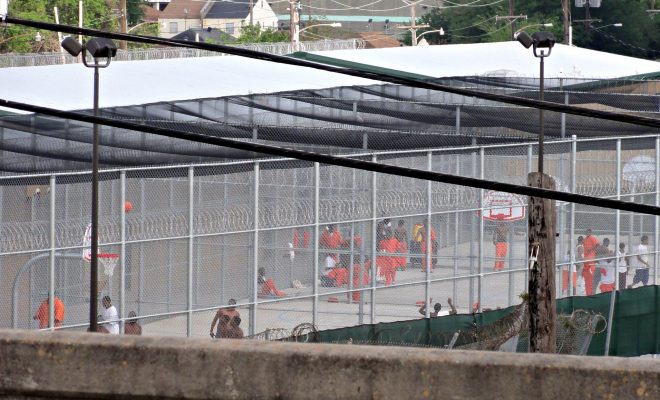 "Inmates" Courtesy of Bart Everson; License: (CC BY 2.0)
Politics
Jeff Sessions: Justice Department Will Continue Using Private Prisons
By
|
In a memo sent to the acting director of the Federal Bureau of Prisons on Thursday, Attorney General Jeff Sessions said the federal government will continue to contract private prisons to help house federal inmates. In doing so, Sessions is reversing a directive the Obama Administration gave in August 2013 to begin phasing out the government's reliance on for-profit prisons.
"The memorandum changed long-standing policy and practice, and impaired the Bureau's ability to meet the future needs of the federal corrections system," Sessions wrote, referring to the 2013 memo that was written by then-Deputy Attorney General Sally Yates. "Therefore, I direct the Bureau to return to its previous approach." A Justice Department spokesman later clarified that private prisons give the Bureau increased "flexibility" in housing federal inmates.
For a little over a decade, the Department of Justice (DOJ) has been contracting private prisons to house a portion of federal inmates. As the prison population began to swell over the past few decades, hitting record levels under the Obama Administration, the federal government decided to outsource its imprisonment activities. By 2013, private prisons held 15 percent of the federal inmate population, or about 30,000 total prisoners. The prisoner population began to drop in 2013, and the Obama Administration decided private prisons, with their high costs and safety concerns, were no longer necessary.
"They do not save substantially on costs, and as noted in a recent report by the Department's Office of Inspector General, they do not maintain the same level of safety and security," Yates wrote in her August 2013 memo. President Donald Trump fired Yates last month, when as acting attorney general she refused to enforce his ban on refugees and travelers from seven largely Muslim countries.
According to the Federal Bureau of Prisons website, most of the private prisons the federal government contracts hold "criminal aliens who may be deported upon completion of their sentence." Of the more than 189,000 federal prisoners in the U.S. today, 12 percent, or about 21,500, are housed in private facilities. The rest are distributed among the 122 federal prisons spread across the country or in "other types of facilities."
In a scathing series of tweets on Thursday, Sen. Bernie Sanders (I-Vermont) called out the Trump Administration's decision to continue using private prisons as a "reward" for the "hundreds of thousands of dollars" private prisons donated to Trump's presidential campaign. Sanders added:
We must end private prisons in America. Corporations should not be profiting by incarcerating our fellow Americans.

— Bernie Sanders (@SenSanders) February 23, 2017
And Cory Booker, the Democratic Senator from New Jersey, said for-profit prisons undermine "the cause of justice and fairness" by adding a "profit motive to imprisonment." He added, referring to the Sessions memo: "This damaging decision cuts against our deeply held values of justice and liberty, while creating vast wealth for private prison operators."