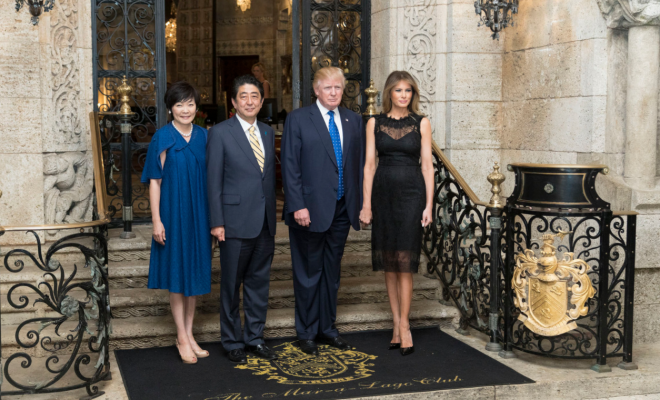 "Foreign Leader Visits" Courtesy of The White House; License: public domain
Politics
Judge Orders Trump to Release Mar-a-Lago Visitor Logs
By
|
On Monday, Citizens for Responsibility and Ethics in Washington (CREW), a left-leaning government watchdog group, announced that as a result of its recent lawsuit, the government will have to turn over logs and records of individuals who visited Mar-a-Lago, President Trump's Florida residence.
CREW filed the lawsuit alongside the Knight First Amendment Institute at Columbia University and the National Security Archive under the Freedom of Information Act. The group has been working to reveal visitor logs for the White House, Mar-a-Lago, and Trump Tower in New York City.
Currently, the Department of Homeland Security says it has no records of people visiting Trump Tower. The lawsuit regarding the White House records is ongoing.
"The public deserves to know who is coming to meet with the president and his staff," CREW executive director Noah Bookbinder said in a statement. "We are glad as a result of this case, this information will become public for meetings at his personal residences–but it needs to be public for meetings at the White House as well."
District Court Judge Katherine Polk Failla wrote in her ruling: "The Secret Service will complete its search for and processing of responsive 'records of presidential visitors at Mar-a-Lago,' and produce any non-exempt responsive records, by September 8, 2017." CREW says it plans to share the information publicly once it's released.
Amidst promises to "drain the swamp" and allegations of collusion with foreign officials, Trump's poorly-disclosed private dealings have been at the heart of public debate in recent months.
The public has essentially been prevented from knowing which lobbyists, political donors, and others the president is meeting with behind closed doors, making it difficult to fully comprehend Trump's allegiances and stances on issues.
The Mar-a-Lago visitor logs may prove to be revelatory because of the unique role the estate has played since Trump took office. In a sense, Mar-a-Lago, which the president affectionately refers to as the "Southern White House," best represents Trump: a mix of his gold-plated private life, his business ties, and now, his executive power.
The venue has controversially served as the backdrop for high-profile diplomatic visits with foreign leaders as well as numerous costly golf weekends for the president.
This lawsuit is not CREW's first attempt to compel transparency from the White House. The group also sued the Obama Administration, which agreed to release White House visitor logs as part of a settlement. That effort began during the Bush Administration before it was settled with President Obama. Since 2009, about 6 million visitor records were made public.
In April, the Trump Administration announced it would end this practice, citing "grave national security risks." Currently, the website where the logs were previously published is blank and reads: "Thank you for your interest in this subject. Stay tuned as we continue to update whitehouse.gov."