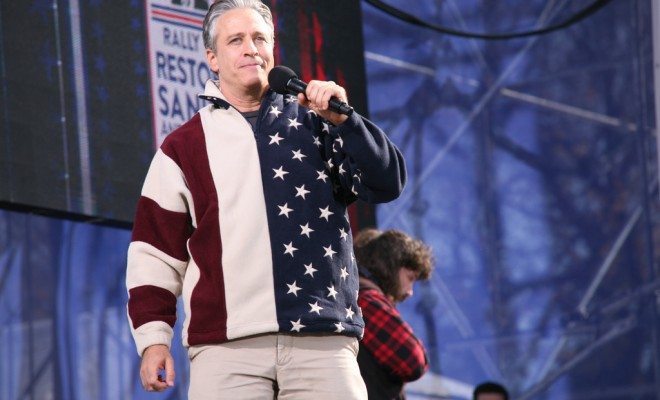 Image courtesy of [Cliff via Flickr]
Politics
Jon Stewart Uses Late Night Connections for Advocacy Good
By
|
Jon Stewart, the host of the "Daily Show" for 16 years, and a quintessential late night presence was spotted on a few other hosts' shows this week. Stewart went to visit both the "Daily Show" and the "Late Show" to advocate for a bill called the Zadroga Act that would extend the health care benefits of 9/11 first responders. Stewart may be retired from regular late night, but that doesn't mean that his appearances are anything but a welcome presence, and in this case, for an incredibly worthy cause.
The Zadroga Act–its full name is the James Zadroga 9/11 Health and Compensation Act–is named after a now-deceased 9/11 first responder. It was first enacted in 2010, but has since expired. Stewart's narrative is that its reauthorization is being held up for purely political reasons.
First, there was Stewart's appearance on the "Daily Show," now hosted by his successor Trevor Noah. Stewart stopped by on Monday to argue in favor of  the Zadroga Act. The "Daily Show" then aired footage of Stewart and some 9/11 first responders wandering around Congress in an attempt to ask various senators why they aren't supporting the bill. In addition to being pretty entertaining, Stewart's efforts were sort of successful–Senator Rob Portman (R-Ohio) signed on to the bill the very same night.
Then, last night, Stewart dropped by Stephen Colbert's new "Late Show." It was also a natural partnership given that Colbert essentially got his start in late night TV by being a correspondent on the "Daily Show" during Stewart's tenure. In order to get viewers' attention on the push to reauthorize the Zadroga Act, Colbert encouraged Stewart to imitate everyone's least favorite headline-grabber–Donald Trump. Stewart sported a wig and let Colbert smush Cheetos on his face to get that signature Donald-glow.
So far, Stewart's strategy seems successful–his reappearance on the Daily Show garnered tens of thousands of shares on social media, if not more, and plenty of media outlets have picked up coverage of his Trump impression last night. It's nice to see that Stewart is still using his soapbox (albeit one borrowed from other great hosts) for good.