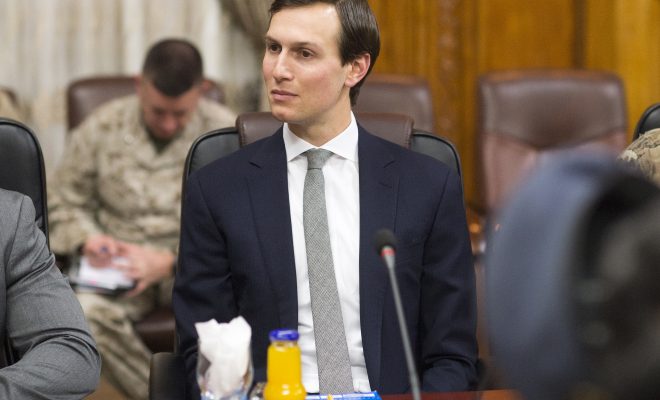 Image courtesy of Chairman of the Joint Chiefs of Staff; License: (CC BY 2.0)
Politics
The World Finally Gets to Hear Jared Kushner's Voice
By
|
After over a year in the spotlight as an important member of Donald Trump's family, son-in-law Jared Kushner has finally made his first public remarks since becoming an adviser to his father-in-law. So, after plenty of speculation, the world now knows what his voice sounds like.
Kushner, Ivanka Trump's husband, has gained unprecedented access to the White House for an in-law. Since President Donald Trump took office, Kushner has been given access to the National Security Council and confidential information. He has also been tasked with brokering a peace deal in the Middle East and acting as a diplomat in talks with Mexico, according to the Washington Post.
Yet America was still left wondering what Kushner sounded like. Even "SNL" made fun of Kushner's silence in this clip from April.
Comedian John Oliver joined the fun on one of his shows: "For someone with the amount of power that he has, have you ever heard him speak? Seriously, what does his voice sound like? You don't know, do you?"
On Monday, Kushner made his first recent public speech at the Eisenhower Executive Office Building. Behind a podium, Kushner spoke about the Trump Administration's commitment to technological modernization. Two months ago Kushner was tapped to head the Office of American Innovation, which attempts to use the private sector to modernize government, according to the Washington Post.
As Kushner spoke on technological modernization, some people on Twitter joked that Kushner's voice itself should be a bit more futuristic.
Kind of disappointed. Jared Kushner's making his first public remarks and he hasn't been hiding a cool Darth Vader voice. At all.

— Karen DaltonBeninato (@kbeninato) June 19, 2017
Others on Twitter compared his voice to actor Michael Cera, who is often mocked for his young, high-pitched voice.
In the tragicomedy film version of the Trump era, Jared Kushner will be played by Michael Cera.

— Brian Beutler (@brianbeutler) June 19, 2017
Many had fun at his expense, but others took note that the disparaging comments about Kushner's voice may come from him not fitting a "masculine" ideal. There was plenty of fodder to criticize as people mocked Kushner's "feminine" voice on Twitter.
There is so much that's fair to critique Kushner on that's fair. But, making fun of his voice hurts so many men and boys for no reason.

— Brianna Wu (@Spacekatgal) June 19, 2017
But does how Kushner's voice sound actually matter? In the first few months of his presidency, Trump has incorporated his family into more power positions than prior administrations, so Kushner's actions matter more than his voice. What really matters is how Kushner can use his powerful platform to influence his wife and father-in-law when it comes to technological advancement or whatever other important issue he's tasked with.