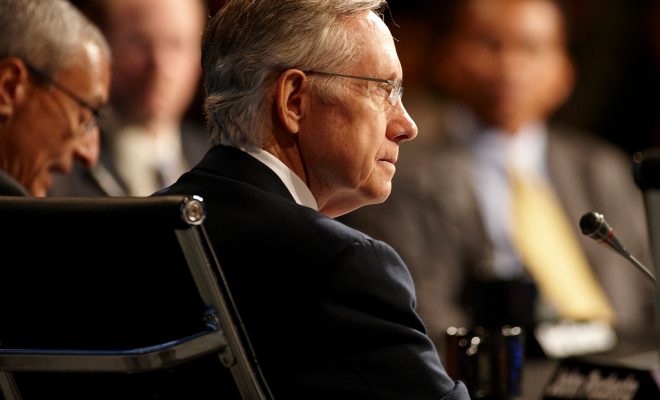 "Senator Harry Reid" Courtesy of Center for American Progress Action Fund's photostream; License: (CC BY-ND 2.0)
Politics
Did James Comey Break Federal Law with His Letter to Congress?
By
|
Did FBI Director James Comey break a federal law by sending a letter to Congress on Friday announcing the bureau's renewed probe into Hillary Clinton's emails? Senate Minority Leader Harry Reid (D-NV) seems to think so. Reid sent a letter of his own to Comey on Sunday accusing the director of breaking the Hatch Act, a little known but commonly enforced statute that prohibits federal employees from meddling in an election. "Through your partisan actions, you may have broken the law," Reid wrote.
With the deepest regret, I now see that I was wrong about Mr. Comey. https://t.co/7tHfOgxvCN

— Senator Harry Reid (@SenatorReid) October 30, 2016

Congress passed the Hatch Act in 1939, disallowing federal employees to "use [their] official authority or influence for the purpose of interfering with or affecting the result of an election." The law has been repeatedly amended since, and the Hatch Act Reform Amendments of 1993 widened the scope of partisan participation granted to federal employees.
In July, the Office of Special Counsel–the agency that enforces the Hatch Act–found Housing and Urban Development Secretary Julian Castro in violation of the law. In an April interview with Katie Couric, Castro was asked about the coming election and his endorsement of Clinton. He responded: "Now, taking off my HUD hat for a second and just speaking individually, it is very clear that Hillary Clinton is the most experienced, thoughtful, and prepared candidate for President that we have this year." The OSC wrote that Castro violated the Hatch Act "by advocating for and against Presidential candidates."
According to Reid, Comey's withholding of information regarding Donald Trump's ties to Russia, along with the timing of his letter (11 days before Election Day), was "intended for the success or failure of a partisan candidate or political group," which is a breach of the Hatch Act and a clear "double-standard." Reid writes:
In my communications with you and other top officials in the national security community, it has become clear that you possess explosive information about close ties and coordination between Donald Trump, his top advisors, and the Russian government–a foreign interest openly hostile to the United States, which Trump praises at every opportunity.
Aside from Reid's statement, there is no evidence that Trump or his advisors have ties to the Russian government, though Trump has repeatedly praised Russian President Vladimir Putin–even calling on him to double down his hacking of Clinton's emails. U.S. officials have found evidence that Russia is behind the recent hacks of the Democratic National Committee and Clinton's Campaign Chairman John Podesta.
Harry Reid is a disgrace to American politics, among worst men ever in Senate. He can't go soon enough, & many Democrats privately agree. https://t.co/4lCKx5pKi4

— Tom Cotton (@TomCottonAR) October 30, 2016

By alerting Congress to the emergence of new evidence in the Clinton email case–emails were found on devices belonging to Huma Abedin, Clinton's longtime aide, and her former husband Anthony Weiner–Comey may have roused enough partisan passions to affect the presidential race, though more likely, down-ballot congressional races. His letter shifted the spotlight off Trump. It reminded voters of Clinton's weaknesses. It provided fodder for Republican lawmakers, and buoyed Trump's spirits. But proving Comey intended to cause any of these effects with his actions does not seem likely.
After sending his letter to Congress, Comey sent a letter to FBI employees that offered more details regarding his decision to send a fairly vague letter in the first place. He wrote:
Of course, we don't ordinarily tell Congress about ongoing investigations, but here I feel an obligation to do so given that I testified repeatedly in recent months that our investigation was completed. I also think it would be misleading to the American people were we not to supplement the record. At the same time, however, given that we don't know the significance of this newly discovered collection of emails, I don't want to create a misleading impression. In trying to strike that balance, in a brief letter and in the middle of an election season, there is significant risk of being misunderstood, but I wanted you to hear directly from me about it.
President Obama appointed Comey as director in 2013, and his ten-year term is set to end in 2023. In a briefing with reporters on Monday, White House Press Secretary Josh Earnest said Obama does not think Comey is trying to influence the election. He also said Obama believes Comey is a "man of integrity and good character" and that he's in a "tough spot."