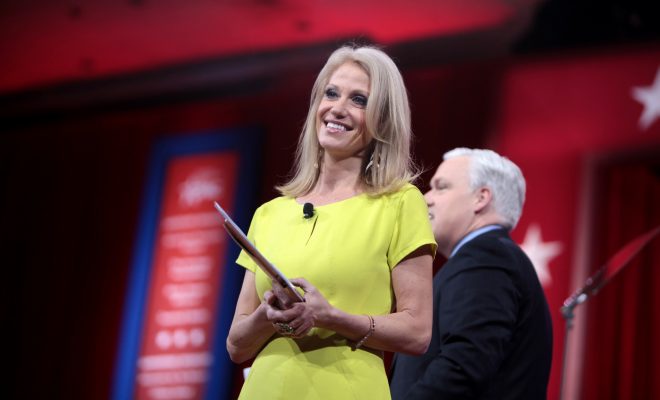 "Kellyanne Conway" courtesy of Gage Skidmore; license: (CC BY-SA 2.0)
Politics
Jake Tapper Tweets Dirt About Himself After Rumors that the GOP is Targeting Him
By
|
A Tuesday interview between CNN's Jake Tapper and President Donald Trump's right hand woman Kellyanne Conway turned into a heated discussion and continued the feud between the news organization and the White House. After the interview, Axios reported that a "source with direct knowledge" said that some in the Republican Party have been urging at least one conservative website to track down damaging information on Jake Tapper and publish "hit pieces" on him.
Trump and CNN have had a strained relationship for some time, and since Tapper is one of the channel's top journalists, he is a pretty obvious target. But Tapper didn't freak out about the threat. In fact, he seemed to take it pretty lightly.
So now we sit and wait to see which obedient attack dog follows orders. Arf arf!! https://t.co/GXBrHDblQp

— Jake Tapper (@jaketapper) February 8, 2017
He even posted some "compromising" information about himself to stall any coming attacks.
Cut a school assembly in May 1983 to see Return of the Jedi on its first day. #TapperDirtFile #JubJub pic.twitter.com/sbuXAzQBve

— Jake Tapper (@jaketapper) February 8, 2017
Maybe that wasn't so bad, but what about this one?
@jaketapper how could you pic.twitter.com/sa9YpWlJAM

— Matthew D'Ambrosio™ (@drmattdambrosio) February 8, 2017
Other people soon followed and shared own their versions of a #TapperDirtFile.
I saw @jaketapper dump his fast food garbage ENTIRELY in the garbage bin, when he COULD have sorted SOME into recyclables! #tapperdirtfile

— Jacob M. (@RealLifeHoser) February 8, 2017
@jaketapper successfully lobbied against CNN's 1 beard policy.

…Wolf Blitzer hasn't spoken to him since #TapperDirtFile

— Jack Tweets 🇺🇸 (@jackTweets11) February 8, 2017
The interview that started this phenomenon had to do with Trump's recent claim that the media doesn't report on terror attacks. The White House released a list of 78 terrorist attacks that it believes the media didn't cover enough. The list included some of the biggest terror attacks in recent years, which were obviously very well covered by the media.
"It's offensive given the fact that CNN and other media organizations have reporters in danger right now in war zones covering ISIS," Tapper said on Tuesday. "And I just don't understand how the president can make an attack like that." Conway replied that the list was just intended to increase awareness of the international threat of terrorism.
Tapper also questioned Conway about why the president hasn't commented publicly or tweeted about the mosque attack by a white man in Quebec City that killed six people and wounded eight. The President had tweeted about the attack outside the Louvre in Paris, where no one was killed, but the attacker was Muslim. Conway replied that the president "doesn't tweet about everything," even though most of us think he could probably use a break from his smartphone.