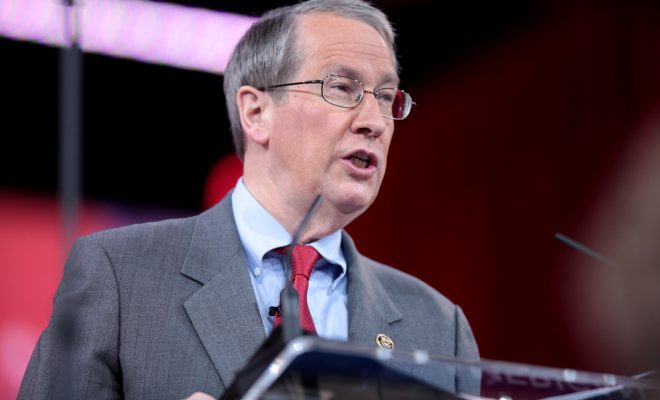 "Bob Goodlatte" Courtesy of Gage Skidmore; License: (CC BY-SA 2.0)
Politics
Why Did House Republicans Withdraw Their Ethics Measure?
By
|
On Tuesday, President-elect Donald Trump made it clear that he still intends to "drain the swamp" of Washington, and House Republicans reluctantly acquiesced to his wishes by dropping a controversial ethics measure.
Representative Bob Goodlatte (R-VA) proposed the measure on Monday, before the 115th Congress was sworn in, aimed at curtailing the power of the Office of Congressional Ethics, an independent watchdog entity that investigates corruption in the House. But after a barrage of criticism from both parties, the media, and Trump (via a pair of tweets), GOP lawmakers withdrew the proposed changes.
Tuesday morning, before the new Congressional terms began, and after House Republicans adopted the measure by a 119-74 vote on Monday night, Trump voiced his disapproval of the move on Twitter:
With all that Congress has to work on, do they really have to make the weakening of the Independent Ethics Watchdog, as unfair as it

— Donald J. Trump (@realDonaldTrump) January 3, 2017
……..may be, their number one act and priority. Focus on tax reform, healthcare and so many other things of far greater importance! #DTS

— Donald J. Trump (@realDonaldTrump) January 3, 2017
In a meeting with Speaker Paul Ryan (R-WI) and Representative Kevin McCarthy (R-CA), the majority leader, the lawmakers decided to scrap the measure. Aides with knowledge of the closed-door meeting said a combination of pressure from Trump, the media, and lawmakers from both parties who opposed Goodlatte's proposal (which included Ryan and McCarthy) led them to renege on the measure.
"House Republicans showed their true colors last night, and reversing their plans to destroy the Office of Congressional Ethics will not obscure their clear contempt for ethics in the People's House," Nancy Pelosi (R-CA), the minority leader, said in a statement. The Office of Congressional Ethics was formed as a check on House corruption under Pelosi's leadership in 2008, when Democrats controlled the chamber.
Lawmakers from both parties have been indicted, with a handful sent to prison, as a result of investigations from the body. But lawmakers from both parties have also opposed its aggressive pursuit of complaints over the past few years, and its investigations that could cost lawmakers millions of dollars to deflect. After the Office of Congressional Ethics finds probable cause to investigate a lawmaker, the House Ethics Committee, which is staffed by lawmakers, decides to pursue a probe further.
The proposed changes would allow the Ethics Committee to shut down investigations by the independent Office of Congressional Ethics. House leadership and Trump, while agreeing the Office of Congressional Ethics needs reform, thought other GOP priorities–like overhauling the Affordable Care Act–took precedence over removing power from an independent body meant to root out corruption.
"After eight years of operation, many members believe the Office of Congressional Ethics is in need of reform to protect due process and ensure it is operating according to its stated mission," Ryan, who opposed the proposal to gut the ethics office, said in a statement. "I want to make clear that this House will hold its members to the highest ethical standards and the Office will continue to operate independently to provide public accountability to Congress."