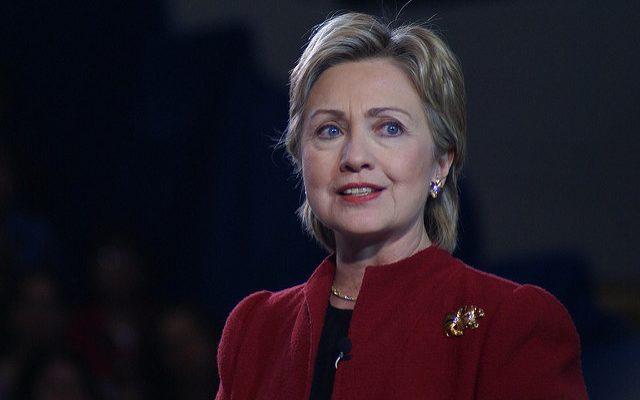 Image Courtesy of [Marc Nozell via Flickr]
Politics
What You Need to Know About the New Hillary Clinton Benghazi Lawsuit
By
|
Two parents of Americans killed in the 2012 Benghazi terrorist attack are blaming Hillary Clinton for the deaths of their sons in a new lawsuit filed Monday. As Clinton prepares to face further scrutiny over her email scandal, here are some fast facts about the case you need to know:
Who Filed the Lawsuit?
The lawsuit was filed by Patricia Smith, the mother of American U.S. Foreign Service member Sean Smith, and Charles Woods, father of American Navy SEAL Tyrone Woods. Both of their sons were killed during the September 11, 2012 Benghazi attack. You may remember Smith, who goes by Pat, from last month's Republican National Convention, where she delivered a harsh critique of Clinton during her speech, declaring, " I blame Hillary Clinton personally for the death of my son."
Pat Smith at RNC: "I Blame Hillary Personally for the Death of My Son" in Benghazi https://t.co/0N4nKXcOug

— David Lee O'Connor (@retmilarm92) July 19, 2016
What Are They Suing HRC For?
Smith and Woods are suing Clinton for defamation and the wrongful deaths of their sons, claiming their deaths were "directly and proximately caused by the negligent and reckless actions" of Clinton and her private email server. They claim Clinton went on a "defamatory smear campaign" against them, painting them as liars for claiming Clinton told them that the Benghazi Attack was caused by an anti-Muslim YouTube video.
The lawsuit also accuses Clinton of false light, negligence, and intentional and negligent infliction of emotional distress.
How Did Clinton Respond?
In a statement provided to The New York Times, Clinton campaign spokesman Nick Merrill said of the lawsuit:
While no one can imagine the pain of the families of the brave Americans we lost at Benghazi, there have been nine different investigations into this attack and none found any evidence whatsoever of any wrongdoing on the part of Hillary Clinton.
Will This Effect the Election?
Clinton has faced criticism over her private email server throughout the entirety of presidential campaign, surviving nine separate investigations into the attack and constant criticism from the Trump campaign on the issue. But should this new lawsuit cause her to worry? Legally, Clinton can probably rest easy, as none of the previous  inquiries found evidence of wrongdoing on her part. However, from a political standpoint it's hard to know for certain whether or not this case will pull votes away from the current presidential frontrunner.
Read the Full Benghazi Lawsuit Here.