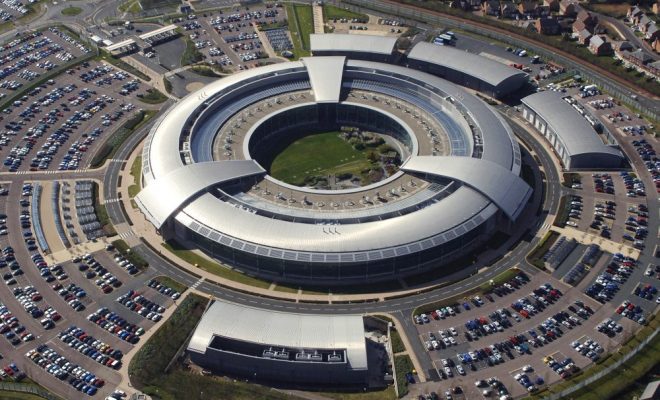 Image Courtesy of GCHQ/Crown Copyright; License: (CC BY-SA 2.0)
Politics
GCHQ: Claims of Collusion with Obama to Wiretap Trump Tower are "Ridiculous"
By
|
White House Press Secretary Sean Spicer claimed on Thursday that British spy agency GCHQ colluded with the Obama Administration to wiretap Trump Tower. The GCHQ said those claims are "ridiculous." The statement came after Spicer defended President Donald Trump's claims that President Barack Obama wiretapped his Manhattan base during the 2016 campaign. Spicer, quoting a report from Fox News reporter Andrew Napolitano, said the wiretap was a collaborative effort between Obama and GCHQ.
"Three intelligence sources have informed Fox News that President Obama went outside the chain of command," Spicer said, quoting Napolitano. "He didn't use the N.S.A., he didn't use the C.I.A., he didn't use the F.B.I., and he didn't use the Department of Justice. He used GCHQ."
But GCHQ, or Government Communications Headquarters, one of Britain's three spy agencies, vehemently denied the accusations. "Recent allegations made by media commentator judge Andrew Napolitano about GCHQ being asked to conduct 'wiretapping' against the then president-elect are nonsense," the agency said in a rare statement. "They are utterly ridiculous and should be ignored."
The wiretap saga began on March 4, when Trump tweeted, "Terrible! Just found out that Obama had my 'wires tapped' in Trump Tower just before the victory. Nothing found. This is McCarthyism!" Former Obama officials immediately denied the accusations. James Clapper, the director of national intelligence at the time, also shot down Trump's claim.
And on Thursday, before Spicer's remarks, high-ranking Republicans on the Senate Intelligence Committee said "we see no indications that Trump Tower was the subject of surveillance by any element of the United States government either before or after Election Day 2016."
Even so, Trump and his advisers stood by his wiretap claims. But after Spicer's comments rankled British officials and Prime Minister Theresa May, he met with Britain's ambassador to the U.S. Kim Darroch Thursday evening. Spicer and H.R. McMaster, the U.S. National Security Adviser, formally apologized for the comments, according the British intelligence officials.
A spokesman for May said they told the Trump Administration "these claims are ridiculous and they should be ignored" and that they "received assurances that these allegations will not be repeated."