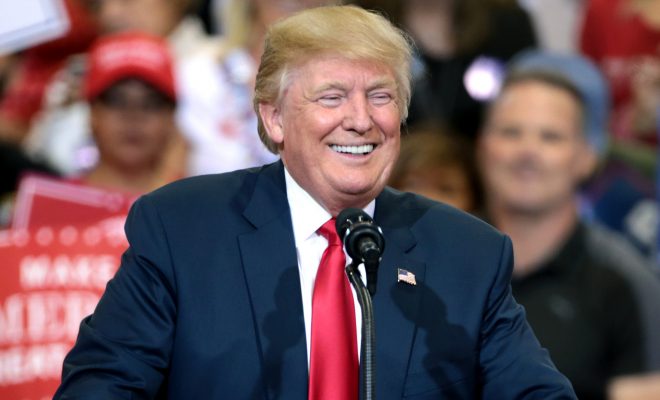 Image Courtesy of Gage Skidmore; License: (CC BY-SA 2.0)
Politics
Trump's Changing Stances: Three Foreign Policies Issues POTUS Has Flipped On
By
|
It is not unusual for a politician to say one thing publicly, and believe another privately. It is also not unusual for a politician–even a president–to change his or her tune on a specific issue. Presidents' thinking on certain issues evolve over time. But with President Donald Trump, a political novice who seems to favor a transactional style over an ideological one, his flip-flops have been seismic. Especially on foreign policy, Trump has gone from embracing marginal viewpoints antithetical to mainstream thinking to, you guessed it, mainstream thinking. Here are three of the president's foreign policy shifts to date:
Russia
We all know the narrative for this one: throughout his campaign, Trump lavished Russian President Vladimir Putin with praise. He hinted that, if elected, he would lift the U.S.-imposed sanctions on Russia. But that barely scrapes the surface of Trump's initial cozying up to the Kremlin. In hacking into Democratic operatives' email accounts, Russia aimed to aid Trump in his quest for the White House, U.S. intelligence agencies concluded. And since July, the FBI has been investigating his and/or his aides' communications with Russia. The House and Senate also have ongoing probes into potential collusion between the Trump team and Russia.
But that good will has all but dissipated. Trump has dropped the idea of lifting the sanctions, which were levied on Russia for its annexation of Crimea and its incursion into Ukraine. And earlier this month, Trump authorized a retaliatory strike on a Syrian airbase for a chemical weapons attack that U.S. officials concluded was carried out by the Syrian regime. Russia, a vital backer of Syrian President Bashar al-Assad, was not happy with the action, and Trump recently said relations with Russia may be at "an all-time low."
China
On his first day as president, Trump used to say, he would label China a currency manipulator. A dubious, if not dangerous claim, not only has that not happened nearly four months into his presidency, Trump recently wrote the idea off completely. "They're not currency manipulators," Trump told the Wall Street Journal on Wednesday, referring to China. While Trump has seemingly moved on from his tough rhetoric, his administration plans on signing an executive order targeting countries that dump steel in the U.S. market, a practice long-suspected to be undertaken by China and others.
Trump has evolved on other China-related policies as well. As president-elect, Trump suggested everything regarding China was "under negotiation," including the decades-old One China policy. A post-election phone call with Taiwan's President Tsai Ing-wen ran counter to that policy, which recognizes Taiwan as a piece of the larger Chinese puzzle. In a February phone call with Chinese President Xi Jinping, Trump affirmed his commitment to the One China view.
NATO
Obsolete. That is the adjective Trump the candidate used to describe the North Atlantic Treaty Organization, Europe's most effective bulwark against Russian aggression on the continent, and in the Baltic states in particular. He publicly pressed NATO members to pick up their slack in funding the bloc's budget–a stance previous presidents privately shared. Since deeming the alliance "obsolete," members of his administration–including Defense Secretary Jim Mattis and Secretary of State Rex Tillerson–have traveled to Europe in the hopes of soothing NATO members' concerns of a dwindling U.S. commitment.
On Wednesday, during a press conference with NATO's Secretary General Jens Stoltenberg, Trump acknowledged his 180: "I said it was obsolete," he said. "It's no longer obsolete." So what has led to Trump's change in thinking, especially on foreign policy matters? Maybe it's the fading voice of Steve Bannon, or the rising influence of his son-in-law Jared Kushner and economic adviser Gary Cohn. Or, just maybe, his more unorthodox positions have been tempered by the weight of the Oval Office.