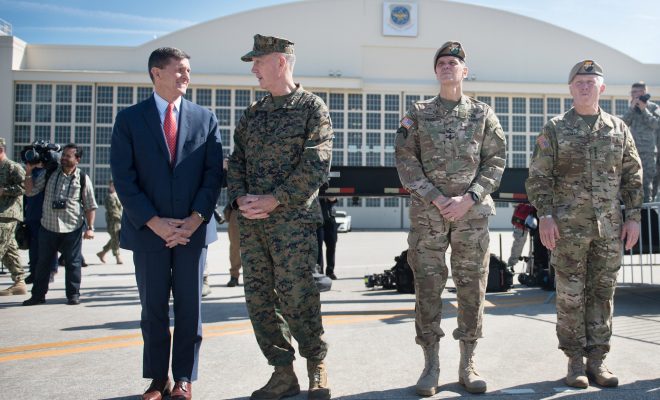 Image Courtesy of Chairman of the Joint Chiefs of Staff's photo stream; License: (CC BY 2.0)
Politics
Michael Flynn is Out: What You Need to Know About his Resignation
By
|
National Security Adviser Michael Flynn resigned late Monday night, after less than one month of service. Last week, U.S. officials said that in his phone calls with the Russian ambassador in late December, Flynn discussed the sanctions President Barack Obama levied on the Kremlin after U.S. intelligence agencies concluded it interfered in the U.S. election. Flynn reportedly cautioned Kislyak against a harsh response, and suggested the sanctions could change under President Donald Trump, who was set to take office a few weeks later.
Though Trump's team publicly supported Flynn last week and even early Monday, the external pressure proved too heavy. "I am tendering my resignation, honored to have served our nation and the American people in such a distinguished way," Flynn wrote in his resignation letter, which the White House sent to reporters. On Tuesday morning, Trump gave his take on the matter via Twitter:
The real story here is why are there so many illegal leaks coming out of Washington? Will these leaks be happening as I deal on N.Korea etc?

— Donald J. Trump (@realDonaldTrump) February 14, 2017
While the White House publicly supported Flynn–Trump's Counselor Kellyanne Conway on Monday morning said he had the "full confidence" of the president–privately, things were different. For one, Vice President Mike Pence was apparently incensed that Flynn had lied to him about the content of his calls with Kislyak. Because he was led to believe Flynn and Kislyak discussed nothing out of the ordinary, Pence publicly defended Flynn last week.
In his letter, Flynn said he "held numerous phone calls with foreign counterparts, ministers, and ambassadors" during the transition. "Unfortunately, because of the fast pace of events, I inadvertently briefed the Vice President Elect and others with incomplete information regarding my phone calls with the Russian Ambassador. I have sincerely apologized to the President and the Vice President, and they have accepted my apology."
Lt. Gen. Joseph Kellogg Jr. will temporarily replace Flynn until the White House chooses a permanent replacement. Kellogg is a retired Vietnam War veteran with decades of military experience. The leading candidate to replace Flynn is retired Vice Admiral Robert Harward, according to an anonymous source that is close to the Trump Administration. Former CIA Director David Petraeus and Kellogg are also in the running.
Sen. John McCain (R-AZ), a fervent critic of Russian President Vladimir Putin, issued a statement early Tuesday on Flynn's resignation, which he said was "a troubling indication of the dysfunction of the current national security apparatus." McCain, who also chairs the Senate Armed Services Committee, continued:
General Flynn's resignation also raises further questions about the Trump administration's intentions toward Vladimir Putin's Russia, including statements by the President suggesting moral equivalence between the United States and Russia despite its invasion of Ukraine, annexation of Crimea, threats to our NATO allies, and attempted interference in American elections.
According to a report by The Washington Post, the White House has known about Flynn's potentially damaging phone calls for at least a month. Sally Yates, the acting attorney general who Trump fired after she refused to enforce his travel ban, told the administration that Flynn misled Pence about the content of his communications with Kislyak. Former National Intelligence Director James Clapper and CIA Director John Brennan echoed the Justice Department's warning.
Yates and the intelligence leaders worried that Russia could use the content of the calls to blackmail him in the future. If Russia wanted something, for instance, they could tell Flynn that they would expose the true nature of the calls unless he capitulated to Russia's demands. But it took a public outcry and external pressure to finally uproot Flynn from his post, though according to administration officials, it was not easy for Trump to nudge Flynn to finally resign, because of the loyalty he showed throughout the campaign.
Even as he was heading out the door, Flynn showered praise on the Trump Administration. In his resignation letter, Flynn wrote: "this team will go down in history as one of the greatest presidencies in U.S. history, and I firmly believe the American people will be well served as they all work together to help Make American Great Again."