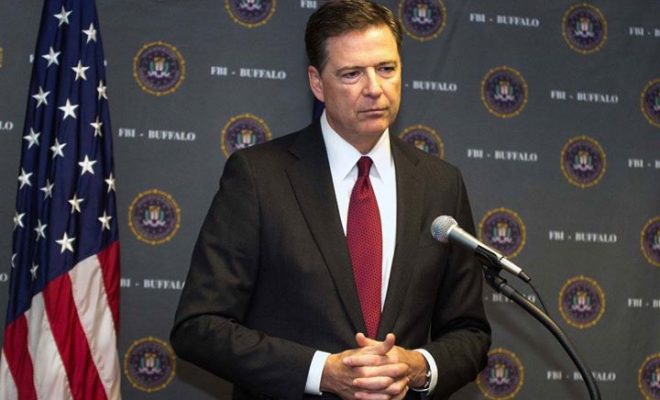 Image Courtesy of Rich Girard; License: (CC BY-SA 2.0)
Politics
Is the FBI Reopening its Investigation into Clinton's Emails?
By
|
FBI Director James Comey, in a letter sent to Congress on Friday, announced a new probe into emails Hillary Clinton sent over a private sever. The new investigation is unrelated to the previous one that ultimately found Clinton not guilty of any criminal offense, but of being "extremely careless." Comey writes:
In connection with an unrelated case, the FBI has learned of the existence of emails that appear to be pertinent to the investigation. I am writing to inform you that the investigative team briefed me on this yesterday, and I agreed that the FBI should take appropriate investigative steps designed to allow investigators to review these emails to determine whether they contain classified information, as well as to assess their importance to our investigation
The New York Times is reporting that the emails were discovered after the FBI investigated devices belonging to Clinton aide Huma Abedin and her ex-husband, Anthony Weiner, in their case involving Weiner's sexting practices. Apparently, there are three emails, not necessarily even involving Clinton, being reviewed.
Despite Election Day's rapid approach, Comey said he "cannot predict how long it will take us to complete this additional work." Comey's letter had an unexpected ripple effect after its release today: the stock market dipped, as many investors expecting a Clinton victory on November 8 were caught off guard. The Dow Jones average fell by over 150 points.
But a source told NBC's Pete Williams that the FBI's second look at Clinton's email practices does not quite constitute a "reopening," (in fact, Comey does not use this word in his letter) as many media outlets are reporting. Williams said that it appears that the new probe involves "another device," and while Clinton could face a political fallout from the announcement, there might not be legal ramifications.
Donald Trump seemed excited by the FBI's announcement. At a rally in Manchester, New Hampshire, he said he was "very proud" of the bureau, adding "I think they are going to right the ship, folks." On cue, the crowd commenced with their go-to chant: "Lock her up!" Trump also said Clinton's seemingly immortal email scandal is "bigger than Watergate."
While social media is bursting with Clinton supporters questioning Comey's motives, and Clinton detractors reading his letter as the final dagger in her candidacy, Comey might simply be doing his job by reexamining fresh evidence, saying nothing of the content of that evidence–damaging or not. According to Newsweek, Comey likely did not have a choice but to renew the investigation: "because the new information followed his sworn testimony about the case, Comey was obligated by Department of Justice rules to keep the relevant committees apprised."
The Associated Press is also reporting that according to a U.S. official, the new emails did not come from Clinton's private server. Hang on folks, Election Day is almost here. Until then, stay tuned to Law Street for the latest updates on this and other issues.