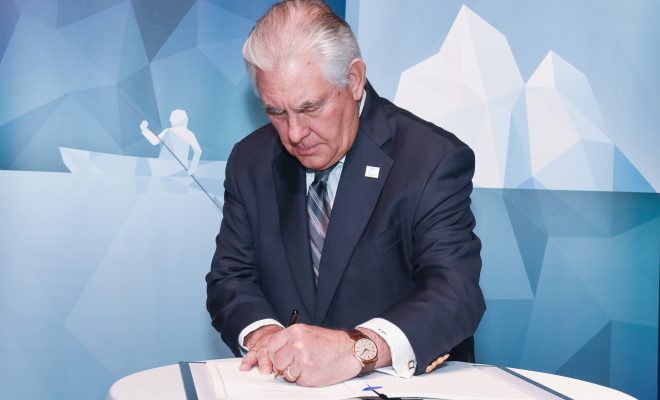 Image Courtesy of Arctic Council Secretariat / Linnea Nordström; License: 

(CC BY-ND 2.0)
Politics
Exxon Fined $2 Million for Violating Sanctions During Tillerson's Tenure
By
|
The Treasury Department fined Exxon Mobil $2 million on Thursday for signing business deals in 2014 with a Russian oil magnate who had been blacklisted under U.S. sanctions. Exxon, which at the time of the sanctions breach was led by now-Secretary of State Rex Tillerson, immediately responded by filing a lawsuit against the Treasury Department.
"OFAC seeks to retroactively enforce a new interpretation of an executive order that is inconsistent with the explicit and unambiguous guidance from the White House and Treasury," Exxon said in a statement, referring to the Office of Foreign Assets Control, the Treasury Department's sanctions enforcement agency.
According to OFAC, Exxon subsidiaries signed eight legal documents with Igor Sechin, president of Russia's state-owned energy conglomerate Rosneft. While Rosneft had not been sanctioned as part of the U.S. punishment for Russia's seizure of Crimea and incursion in Ukraine in 2014, Sechin had been individually blacklisted. That meant U.S. entities were barred from doing business directly with him.
In Exxon's complaint, filed in a U.S. district court in Texas, the company called the penalty "unlawful." Exxon argued OFAC's enforcement of the sanctions, implemented by the Obama Administration in April 2014 is "arbitrary, capricious, an abuse of discretion, and otherwise not in accordance with law." The lawsuit also alleges that the penalty denies Exxon its due process.
In a release announcing the lawsuit against OFAC, Exxon pointed to a White House fact sheet published in 2014. The fact sheet said the purpose of blacklisting individuals was to target "personal assets, but not companies that they may manage on behalf of the Russian state."
Effectively, the oil giant contends, doing business with Rosneft had never been illegal, and so dealing with Sechin in his capacity of its top representative should be permitted. The Treasury Department disagreed, saying there is no "exception or carve-out for the professional conduct of designated or blocked persons."
Tillerson was Exxon's CEO at the time of its alleged sanctions violation, and, during an annual meeting, said he did not support sanctions "unless they are very well implemented." In January, during Tillerson's Senate confirmation hearing, his past with Exxon and its extensive dealings in Russia raised concerns that he would be partial in dealing with Russia and its president, Vladimir Putin.
But in his short tenure as America's top diplomat, Tillerson has worked to keep the sanctions against Russia in place. Earlier this month, in a visit to Ukraine, Tillerson said the sanctions "will remain in place until Moscow reverses the actions that triggered these particular sanctions."