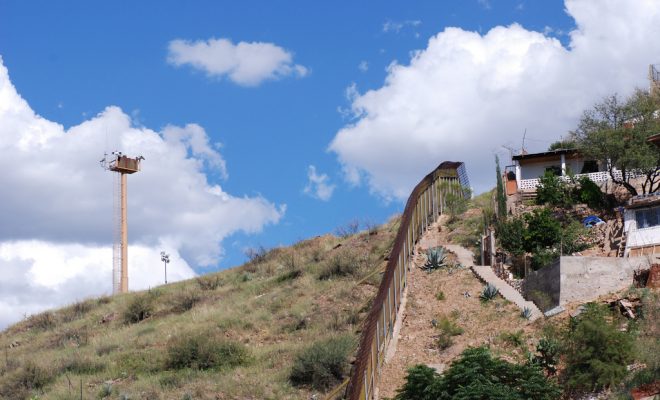 Image Courtesy of Jonathan McIntosh; License: (CC BY 2.0)
Politics
First DREAMer Deported by Trump Files Federal Complaint
By
|
Juan Manuel Montes was walking in Calexico, California, a small town on the Mexican border, on the night of February 17. A U.S. border patrol agent stopped Montes, a 23-year-old DREAMer, and asked him for identification. Montes told the agent he didn't have his papers on him. The agent, according to Montes' legal council, brought him to a patrol station, made him sign documents, denied him access to an immigration hearing, and "in the middle of the night, Montes was physically removed to Mexicali, Mexico."
On Tuesday, Montes filed a federal complaint against the Trump Administration in the U.S. District Court for the Southern District of California. Montes, still in Mexicali, is represented by the National Immigration Law Center and three other law firms. In a press release, the NILC said Montes is the first DREAMer to be deported under the Trump Administration. Dozens of others have been deported, but only after their DREAMer status had been revoked because of gang affiliations or other criminal actions.
Montes was not stripped of his Deferred Action for Childhood Arrivals, or DACA, status. According to Nora Preciado, an NILC lawyer, Montes, who was taken to the U.S. at nine years-old, was whisked across the border to Mexicali without cause or explanation.
"Juan Manuel was funneled across the border without so much as a piece of paper to explain why or how," Preciado said. "The government shouldn't treat anyone this way—much less someone who has DACA. No one should have to file a lawsuit to find out what happened to them."
Enacted in 2012 by former President Barack Obama, DACA provides protection to an estimated 750,000 children, teenagers, and young adults who were brought to the country before they turned 16. Under Obama, 365 former DACA recipients were stripped of their protection–because of a "significant misdemeanor" conviction, felony, or three or more misdemeanors–and deported. President Donald Trump has deported 43 former DACA enrollees in his first few months in office. Montes had not been stripped of his DACA status, yet he was still deported.
"I was forced out because I was nervous and didn't know what to do or say, but my home is there," Montes said in a statement through the NILC. "I miss my job. I miss school. And I want to continue to work toward better opportunities. But most of all, I miss my family, and I have hope that I will be able to go back so I can be with them again."
On March 15, Montes filed a Freedom of Information Act (FOIA) request with U.S. Customs and Border Protection (CBP), seeking documents related to his deportation. CBP has yet to respond to the request. While he did not have any felonies on his record, Montes did have a collection of misdemeanors; three were for driving without a license, and one was for shoplifting. On Tuesday, Rep. Steve King (R-IA) tweeted a photo of him toasting the border patrol for deporting Montes:
First non-valedictorian DREAMer deported. Border Patrol, this one's for you. https://t.co/56z1b8xrJ2 pic.twitter.com/iNjKd9FHtM

— Steve King (@SteveKingIA) April 18, 2017
Mónica Ramírez Almadani, an attorney with Covington & Burling LLP, one of the firms representing Montes in his lawsuit against the administration, is hopeful her client will find out why he was booted from Calexico that night in February. "We look forward to presenting our case to the court, because our client has the right to know why and how he was physically removed from the United States when he had permission to live and work here," she said.