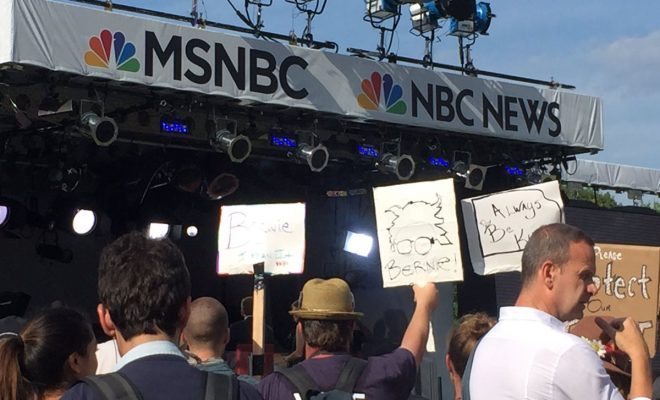 Image Courtesy of [Anneliese Mahoney for Law Street Media]
Politics
DNC Emails: Wasserman Schultz Resigns, FBI to Investigate the Leak
By
|
Some of the exchanges question Bernie Sanders' faith. Some show attempts to undermine his campaign's credibility. One describes him as an outsider with "no understanding of what we do." Monday morning, the FBI announced they will be investigating the leak of the nearly 2,000 emails sent between top Democratic National Committee members, which were released by WikiLeaks on Friday. Hillary Clinton insists the leak is the work of Russia, in an attempt to give Donald Trump a boost.
The emails–part one of WikiLeaks' "Hillary Leaks series"–proved so damaging that Debbie Wasserman Schultz, the DNC chairwoman, announced her resignation on Sunday. She will address delegates at the Democratic National Convention in Philadelphia this week before ceding her post to Donna Brazile, the vice chairwoman of the DNC. Monday morning, Wasserman Schultz was booed at a Florida delegate breakfast in Philadelphia.
While journalists have been combing through the emails, which include over 8,000 attached documents, some shocking exchanges between key party figures have been revealed. In one, Brad Marshall, chief financial officer of the DNC suggests questioning Sanders' Jewish beliefs as a way to dissuade pious voters in Kentucky and West Virginia from voting for him:
He had skated on saying he has a Jewish heritage. I think I read he is an atheist. This could make several points difference with my peeps. My Southern Baptist peeps would draw a big difference between a Jew and an atheist…It's these Jesus thing.
In a statement issued on Sunday, Sanders, who has been claiming that the DNC rigged the primary fight in favor of Clinton for months, thanked Wasserman Schultz for her years of service, but said she made the "right decision" by resigning. "The party leadership must also always remain impartial in the presidential nominating process, something which did not occur in the 2016 race," he added.
The Democrats are in a total meltdown but the biased media will say how great they are doing! E-mails say the rigged system is alive & well!

— Donald J. Trump (@realDonaldTrump) July 24, 2016
For her part, Clinton also thanked her "longtime friend" for her five years as DNC leader, and announced she will act as a Clinton surrogate in Florida, a key swing state, as well as other states. "I look forward to campaigning with Debbie in Florida and helping her in her re-election bid–because as President, I will need fighters like Debbie in Congress who are ready on day one to get to work for the American people," Clinton's statement read.
Trump quickly seized on the second email scandal involving his rival party during the campaign. He took to Twitter to publicize his views on the matter, firing off a round of tweets Monday morning: "Crooked Hillary Clinton knew everything that her 'servant' was doing at the DNC–they just got caught, that's all! They laughed at Bernie."
The Democratic Party will seek to show itself as unified, in contrast to the fractured Republicans, during the convention in Philadelphia this week. But the email leak could prove difficult to paper over, especially for Sanders's supporters and delegates who remain steadfast in their support, even as the senator endorsed Clinton and ended his White House ambitions a few weeks ago.