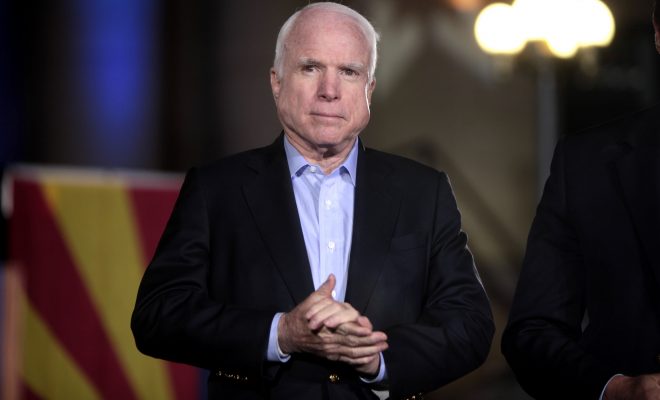 Image Courtesy of Gage Skidmore; License: (CC BY-SA 2.0)
Politics
Bipartisan Group of Politicians Express Outrage Over Russian Hacking
By
|
President-elect Donald Trump may have dismissed the CIA report that Russia's hacking was intended to aid his election efforts, but a bipartisan cohort of  politicians banded together to condemn the Kremlin's actions over the weekend. Many have also called for a "bipartisan investigation" into the matter. Four senators–two from each party–released a joint statement on Sunday in response to the CIA's conclusion that the hacks were pointedly aimed at putting Trump in the White House. 
"We are committed to working in this bipartisan manner, and we will seek to unify our colleagues around the goal of investigating and stopping the grave threats that cyberattacks conducted by foreign governments pose to our national security," said the statement from Senator John McCain (R-AZ), Senator Lindsey Graham (R-SC), Senator Chuck Schumer (D-NY), and Senator Jack Reed (D-RI).
The senators said that the CIA's report "should alarm every American," adding that the hacks "cut to the heart of our free society." McCain and Schumer appeared on "CBS This Morning" on Monday, reiterating their concern over the hacks. Contradicting Trump's Twitter flurry denying the CIA's report, McCain said: "there is no doubt about the hacking. Let's establish that."
Trump continued his Twitter tirade on Monday morning:
Can you imagine if the election results were the opposite and WE tried to play the Russia/CIA card. It would be called conspiracy theory!

— Donald J. Trump (@realDonaldTrump) December 12, 2016
He continued:
Unless you catch "hackers" in the act, it is very hard to determine who was doing the hacking. Why wasn't this brought up before election?

— Donald J. Trump (@realDonaldTrump) December 12, 2016
Russia's hacking into the Democratic National Committee's email servers, and its assist to Wikileaks, which in turn unleashed the damaging emails, has been on the CIA's radar since at least July. But last week, the agency concluded that the Russians also hacked into the Republican National Committee's servers, but held back on releasing what they had dug up. Based on a new analysis of previously known, and largely circumstantial evidence, the CIA concluded Russia intended to help Trump get elected over Hillary Clinton.
Trump and Clinton presented Russia with two very different futures, depending on which candidate U.S. voters elected into office. As secretary of state, Clinton clashed with Russian President Vladimir Putin several times. For instance, he blamed her for instigating anti-Putin protests in Moscow in 2011. Trump on the other hand, has shown nothing but admiration for Putin on the campaign trail. Trump has praised Putin as "a strong leader," and has questioned the effectiveness of NATO, a key check against Russian aggression in Baltic states in Europe.
While some top-ranking Republicans have spoken out against the Russians, others have remained largely silent. Speaker of the House Paul Ryan issued a statement on Sunday, saying "foreign intervention in our elections is unacceptable" but also added that he "rejects any politicization of intelligence matters" and did not call for a deeper probe into the matter. But for McCain, Schumer, Graham, and Reed, Russia's meddling "cannot become a partisan issue." They said in their statement: "The stakes are too high for our country."