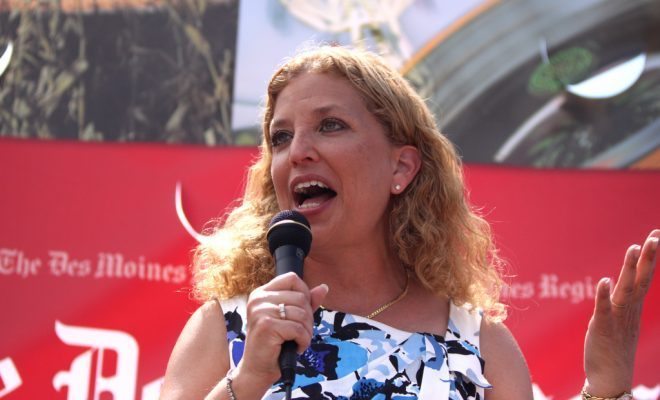 "Debbie Wasserman Schultz" courtesy of [Gage Skidmore via Flickr]
Politics
Are the Democrats About to Drop Debbie Wasserman Schultz?
By
|
The Democratic Party may be considering getting rid of Debbie Wasserman Schultz as the Democratic National Committee chairwoman before the party's national convention. She hasn't exactly been getting along with Bernie Sanders or his supporters lately, and some Clinton supporters believe she is too divisive to be able to consolidate the party.
A controversial chairperson could worsen the Democrats' chances to defeat the Republicans in the general election, and some senior Democratic aides have (for the most part, anonymously) expressed the opinion that Wasserman Schultz is already "too toxic," saying that the only way to have a good shot to win in November is to replace her. Critics are now using the hasthtag #DumpDebbie on Twitter to call for her removal.
Wasserman Schultz has long had a complicated relationship with the Sanders campaign. His campaign actually sued the DNC in March, saying the DNC wrongfully shut off its access to important voter data.
More recently, Wasserman Schultz criticized Sanders after his supporters went a little crazy at the Democratic convention in Nevada, stating that his lukewarm response was unacceptable and probably just added fuel to the fire, even though he did condemn the violence. Sanders started a fundraiser for her primary challenger Tim Canova last weekend.
I am proud to know that @BernieSanders is favoring our progressive campaign to #RetireDWS. https://t.co/yUyWoN5xBS #ProgressforAll #fl23

— Tim Canova (@Tim_Canova) May 21, 2016
There hasn't been any formal action to replace Wasserman Schultz so far, and some Democrats still ardently defend her, like House Minority Leader Nancy Pelosi and former Philadelphia Mayor Michael Nutter. Nutter pointed out that Sanders is a recent Democrat while Wasserman Schultz has been leading the party and shouldn't just be pushed out.
At the same time, DNC spokesperson Luis Miranda denied that anything serious is going on, saying that there are a whole lot of high profile members of Congress expressing their support for Wasserman Schultz on the record, and there are just a few who disagree and want to stay anonymous.