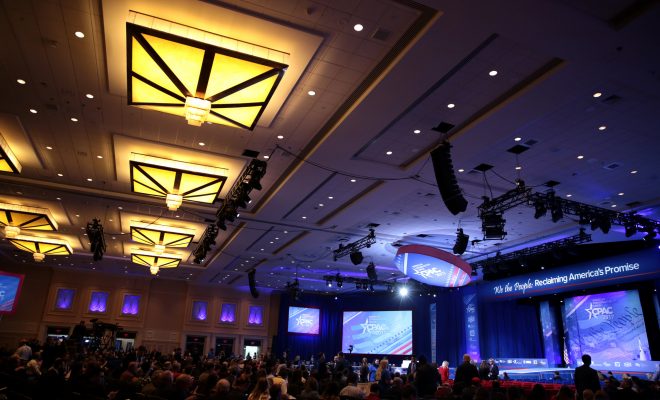 "CPAC stage" courtesy of Gage Skidmore; license: (CC BY-SA 2.0)
Politics
What's Up at CPAC?: Attacks on "Fake News" and Russian-Themed Trump Flags
By
|
CPAC, the Conservative Political Action Conference, has been going on just outside of D.C. all week and on Friday the president took the stage. President Donald Trump spent the first half of his speech bashing the media, saying that "the dishonest press" and "fake news" are "the enemy of the people." He went on to say that he doesn't oppose negative stories about himself, but that the media is just making things up. Then, Trump explained how he is going to follow through on his campaign promises such as the dismantling of Obamacare, the construction of the border wall, the deportation of "bad dudes," and the creation of more jobs.
Trump also claimed that there were so many people who wanted to see him speak that the line outside the Gaylord Hotel and Convention Center where the event is taking place went for six blocks. "There are lines that go back six blocks. I tell you that because you won't read about it," he said.
Reporters at Jezebel decided to look into it, and concluded that the reason you won't read about it is because it didn't happen; they couldn't find any evidence of long lines. Volunteers who were stationed by the doors to check peoples' tickets denied seeing any long lines, and the only big crowds of people to arrive simultaneously came from buses. Jezebel also pointed out that the area where the hotel is located doesn't even stretch for six blocks.
At one point, several attendees started waving Russian flags with Trump's name on them.
Someone handed out Trump Russian flags on the #CPAC2017 floor before Trump's speech pic.twitter.com/uf1ADMt6ZL

— Taylor Lorenz (@TaylorLorenz) February 24, 2017
When staffers saw the flags they hurriedly confiscated them.
Crowd at CPAC waving these little pro-Trump flags that look exactly like the Russian flag. Staffers quickly come around to confiscate them. pic.twitter.com/YhPpkwFCNc

— Peter Hamby (@PeterHamby) February 24, 2017
It's unknown who made or handed out the flags and why. It's also unclear whether people even realized it was the Russian flag they were waving, or if they just thought it was just a flag with the American red, white, and blue colors. But according to journalist Sarah Posner, there was at least one attendee who wore a t-shirt that said "Make Russia Great Again." Prank or not, the incident gave rise to some laughs.
@PeterHamby @mkraju "Excuse me Sir, your Russia is showing. Let me hide that for you. Carry on."

— MichelleK (@Michelle_In_AR) February 24, 2017
Well played, anonymous CPAC monkeywrencher. https://t.co/ZXElPROsKx

— Angus Johnston (@studentactivism) February 24, 2017
Are Russian flags the Right's answer to #pussyhats? #CPAC #TRUMP https://t.co/FM74Irzwg4

— lnmassaro (@liddabird) February 24, 2017