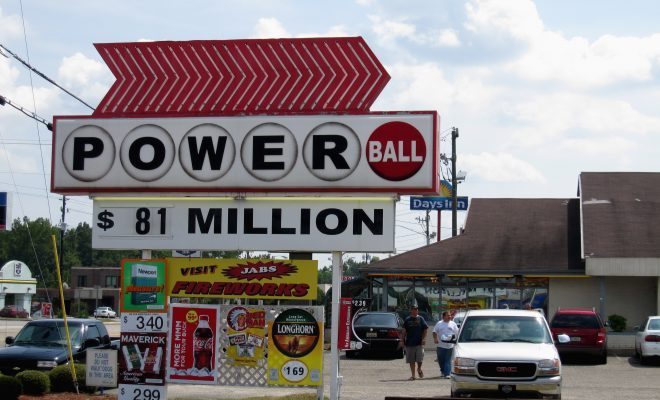 "Powerball" Courtesy of [Ross Catrow via Flickr]
Politics
Could a Lottery Save Alabama's Lack of State Funding?
By
|
For the first time in nearly two decades, the state of Alabama might implement a lottery system in order to pay for basic services that it currently cannot afford.
In a video released yesterday, Alabama Gov. Robert Bentley announced, "the state of Alabama has not and cannot at this time pay for the most basic services that we must provide to our people."
He continued, "the time has come for us to find a permanent solution. This solution will provide funding that we can count on year after year without ever having to raise your taxes or put one more Band-Aid on our state's money problems."
BREAKING:We need your help solving our funding crisis.I'm giving you the opportunity to vote on a Statewide Lottery. https://t.co/BLzE3bOXLP

— Gov. Robert Bentley (@GovernorBentley) July 27, 2016
The lottery could bring in $225 million annually, a steady revenue that would help alleviate the state's reliance on borrowing money and using one-time money to fill the gap in Alabama's dismal finances. Bentley said the revenue would be applied to General Fund programs like services for law enforcement, the mentally ill, children, and "those in the most need."
State lawmakers have tried cutting "wasteful" spending, shifting the management of Medicaid to the private sector, and borrowing money, and a proposed, but rejected, tax plan–but those efforts have still not been enough to fix the financial problem.
Bentley said he wants the voters to decide whether or not a lottery should be implemented to fix Alabama's financial situation, which means the issue would appear on the Nov. 8 ballot. However, in order for that to happen, the Legislature would have to approve the amendment by Aug. 24 with a three-fifths vote in both the House and Senate.
With less than a month until the date the amendment would have to be approved by, it doesn't seem like the Alabama governor has made any plans to get the ball rolling. Though he just made the video announcement Wednesday, he has not provided any other details on a special session which would have to be called in order to create the amendment.
State representatives and senators from Alabama took to the proposal differently. Rep. John Knight (D-Montgomery) chairman of the Alabama House Black Caucus, said he was disturbed that Bentley had not talked about the lottery proposal with him or anyone in the Caucus.
"It seems like everything that is being done now is being done behind closed doors," Knight said.
Acting House Speaker Victor Gaston (R-Mobile) shared those sentiments, saying in a statement, "the governor has not outlined his plan to legislators in any detail, nor, to my knowledge, has he even set a concrete start date for the special session, so it is difficult to comment with so little information at hand." He continued, "I hope that the governor reaches out to lawmakers over the next several weeks in order to seek their input on any lottery proposal that comes forward and to do the prep work that is necessary for any special session to be successful."
Others, like Rep. Craig Ford, (D-Gadsden), leader of the Democratic minority in the Alabama House of Representatives, do not believe Bentley's plan will work.
"A lottery will do nothing for this year's Medicaid shortfall, and at best will be nothing more than a band aid for the General Fund that will leave us right back where we are now in just a few years," he said in a statement. "The lottery is a one-shot deal, and a lottery for the General Fund will become, as it has in other states, a victim to legislative shell games; it will become nothing more than a slush fund for legislators."
.@RepCraigFord says his proposed lottery must fund scholarships, and will not save the state's budgets: https://t.co/yxGV9vUygK #alpolitics

— AL Reporter (@ALReporter) July 27, 2016
Sen. Quinton Ross (D-Montgomery), minority leader in the Alabama Senate, agrees with Bentley's lottery proposal.
"These gaming dollars can provide stability and long-term economic streams for many of our General Fund and Education Trust Fund needs."
Until Bentley schedules a special session, it's unclear whether or not the lottery will come to the Crimson Tide state.