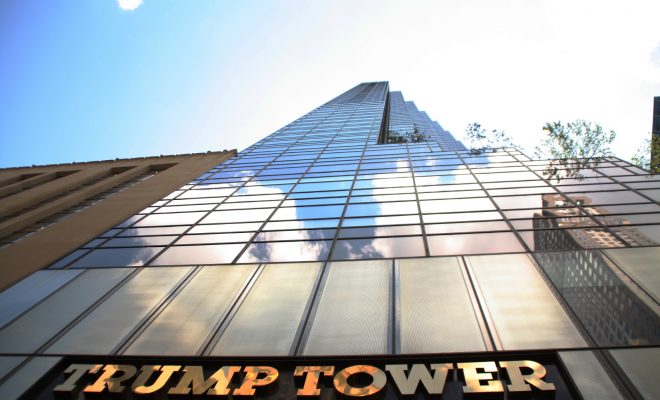 Image Courtesy of Brad; License: (CC BY 2.0)
Politics
How Much Does it Cost to Protect Trump Tower?
By
|
Between Election Day and Inauguration Day, the New York Police Department spent $25.7 million "to protect Trump Tower and the First Family," according to a letter from the department's commissioner. That figure is down from the $35 million that was initially estimated in December. The costs associated with protecting President Donald Trump and his family for 75 days during the transition period differed greatly depending on whether Trump himself was in town.
Using "an extensive analysis of payrolls, overtime sheets, and over 25,000 individual patrol log entries," the commissioner, James O'Neil, said it cost $127,000 to $146,000 each day "to protect the first lady and her son while they reside in Trump Tower." When Trump was in Manhattan, that rate more than doubled to $308,000 per day.
Why was the initial estimate of $35 million nearly one-third higher than the actual cost? "The initial estimate to provide security for Trump Tower was calculated using anticipated costs," an NYPD spokesperson told POLITICO. "Subsequently, modifications were made to the security plan, and the amount was recalculated using actual costs."
The intent of the commissioner's letter, which was sent on Tuesday, was to extract resources from the federal government to reimburse the city for protecting Trump and his family during the transition. Though New York City's mayor, Bill de Blasio, initially asked for $35 million (based on the NYPD's initial estimate) to cover the costs, the federal government has paid the city $7 million so far.
Trump has yet to visit Trump Tower, or New York City, since Inauguration Day. When he does–he has suggested he would like to spend weekends in Manhattan–the same costs would likely apply, if not more. Regardless, the presence of his wife Melania and his son Barron at Trump Tower incurs heavy costs. It would cost $50 million over a year-long period to protect the two of them for a year (Melania and Barron are expected to stay through the school year). If Trump joins them on weekends, as he has indicated he will do, that will jump to $60 million per year.
In his letter, O'Neill also acknowledged the collateral effects of siphoning the city's budget to protect the president and his family: "Trump Tower itself now presents a target to those who wish to commit acts of terror against our country, further straining our limited counterterrorism resources."