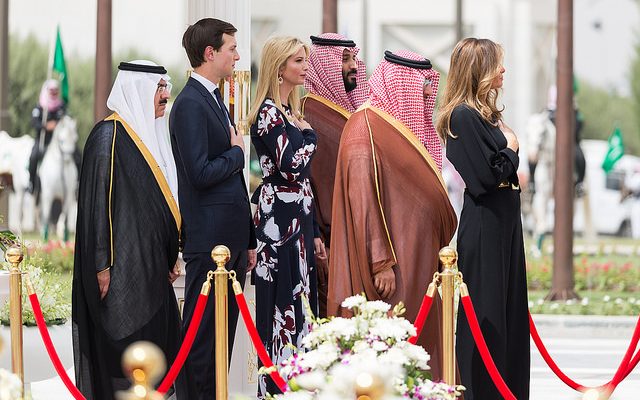 "President Trump's Trip Abroad" Courtesy of The White House: License Public Domain
Fashion
Controversy After Melania Trump Covers Hair at the Vatican, But Not in Saudi Arabia
By
|
Melania Trump's recent attire for a visit with Pope Francis has garnered a bit of controversy, as she joins her husband on his first foreign tour as president of the United States.
While visiting the Vatican Wednesday, both the first lady and first daughter Ivanka Trump adhered to the traditional dress code for a private papal audience at the Vatican.
Melania donned a mantilla, the lace veil traditionally worn in the Roman Catholic Church, and honored the nearby nation of Italy in a demure long-sleeved black dress by Italian fashion label Dolce & Gabanna. Ivanka dressed similarly, wearing a more voluminous sheer veil.
Pope Francis appears to have left a mark on Trump. "Thank you. I won't forget what you said," Trump tells the Pope https://t.co/VpBEp8XUPP pic.twitter.com/T796zQXLfH

— CNN (@CNN) May 24, 2017
"Per Vatican protocol, women who have an audience with the Pope are required to wear long sleeves, formal black clothing, and a veil to cover the head," Stephanie Grisham, the first lady's communications director, told CNN.
But when asked why Melania wore a veil at the Vatican but eschewed a headscarf during her visit days earlier in Saudi Arabia, a conservative Muslim country where women are expected to wear head coverings, Grisham said there was no request or requirement for her attire from that country.
Melania isn't the first first lady to forgo a headscarf in the Middle East, but her decision, however, directly contradicts her husband's criticism of former first lady Michelle Obama, who chose not to wear one during her visit in 2015. President Donald Trump was quick to chastise the move at the time, tweeting:
Many people are saying it was wonderful that Mrs. Obama refused to wear a scarf in Saudi Arabia, but they were insulted.We have enuf enemies

— Donald J. Trump (@realDonaldTrump) January 29, 2015
Obama also wore a black veil and a black dress when she met Pope Benedict XVI at the Vatican in 2009.
Despite foregoing the headscarf, Melania still received rave reviews from local Saudi Arabian press for her "classy" and "conservative" outfit.
According to CNN, Melania prepared extensively, with the help of State Department officials, on the proper protocol and customs for each of the stops on the foreign trip.