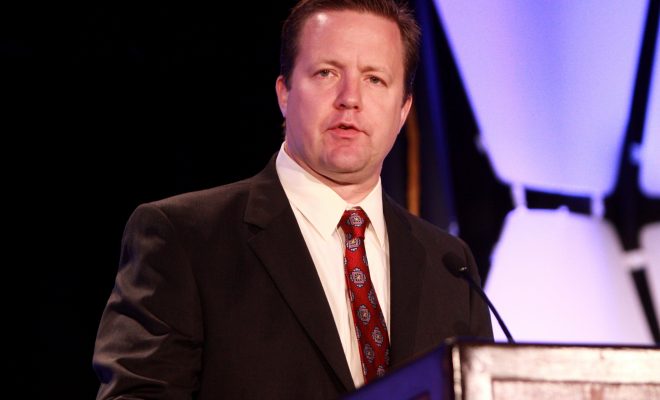 Corey Stewart Courtesy of Gage Skidmore License: (CC BY-SA 2.0)
Politics
Who is Corey Stewart, the Pro-Confederate Virginia Gubernatorial Candidate?
By
|
When the city of New Orleans finally began the process of taking down its pro-Confederate monuments this week, it faced some opposition. One of the more high-profile critics of the decision was Virginia's Republican gubernatorial candidate Corey Stewart.
Stewart attracted attention on the internet a few days ago for his tweet-storm defending preservation of the monuments. But there was one controversial tweet in particular that stood out.
Nothing is worse than a Yankee telling a Southerner that his monuments don't matter.

— Corey Stewart (@CoreyStewartVA) April 25, 2017
Twitter users quickly reminded Stewart that he is not from the South (he is a Minnesota native), and that a lot of things are actually worse than "a Yankee telling a Southerner that his monuments don't matter."
You are from Minnesota. https://t.co/45pEgVGmC2

— Dave Weigel (@daveweigel) April 25, 2017
@CoreyStewartVA Like, literally, nothing? Nothing is worse?

— John Legend (@johnlegend) April 25, 2017
you know what was worse? Slavery https://t.co/1ACEuYjUh9

— Wesley Lowery (@WesleyLowery) April 25, 2017
1. Slavery
2. Lynchings
3. Black women raped + their rapists set free
4. Jim Crow
5. Workplace discrimination
6. Housing discrimination https://t.co/aTgOxwXEqd

— Yashar (@yashar) April 25, 2017
Stewart, who is currently a chairman for the Board of Supervisors in Prince Williams County, Virginia, announced his bid for governor of the state in April 2016 (the primary elections will take place this June). Since then, he has become a vocal advocate for honoring Confederate landmarks, and has integrated the issue heavily into his campaign. In February, he organized protests in Charlottesville, Virginia against the removal of a Robert E. Lee statue. Earlier this month, he attended a Civil War-themed "Old South Ball."
For many, Confederate symbols (like the flag) will always represent white supremacy because of their ties to the southern states that seceded from the U.S. and defended slavery during the Civil War. Stewart, on the other hand, has said that his position on the issue is not about the Confederate flag, but about "rampant, uncontrolled political correctness that is shaming Virginians who are simply trying to honor their ancestors, their ancestry, their heritage."
If that anti-political correctness sentiment sounds familiar to you, it's probably because you've heard similar things from President Donald Trump while he was on the campaign trail. Stewart supported Trump during the presidential election and served as the chair of Trump's campaign in Virginia, until he was fired for orchestrating an unauthorized protest against anti-Trump Republicans outside the Republican National Convention headquarters.
Now, his commitment to protecting Confederate heritage, and combating what he calls "historical vandalism," could hurt him in his run. Stewart recently lost the support of Prince William County's sheriff, who switched his endorsement to back Stewart's Republican opponent Ed Gillespie. Sheriff Glendell Hill told the Washington Post that Stewart's views on "all that Confederate stuff" were too divisive. Four GOP supervisors who serve on the county board with Stewart also chose to endorse Gillespie.
Like Trump, Stewart is known for being outspoken on the internet. In March, he answered questions on a Reddit thread known as an "Ask Me Anything," or AMA. At one point in the AMA, Stewart referred to Gillespie as a "cuckservative," a term coined by the alt-right movement to disparage Republicans who are too moderate. In the same question-and-answer session on the site, he called for deportation of "criminal illegal aliens," called globalists "BAD people" (even though he has worked as an international trade attorney).
Stewart has also tried to cover up negative information about himself–like low ratings about his claims on the fact-checker Politifact, and his loss in the 2016 race for lieutenant governor–by editing his own Wikipedia page.
From the establishment of sanctuary cities to the legalization of marijuana, a lot of resistance to the Trump Administration and its policies happens on local and state levels. Virginia's current governor, Democrat Terry McAuliffe, has opposed the president's immigration order while Democratic candidates for governor like Tom Perriello and Ralph Northam have both criticized and vowed to push back against the federal government. But a win for Stewart could change that.
However, a recent Quinnipiac University poll showed Gillespie–who voted for Trump, but whose support of the president has been lukewarm in comparison to Stewart's–leading with 28 percent, while Stewart is currently falling behind at 12 percent. According to the same poll, in the general election both Perriello and Northham would hold double-digit leads over Gillespie.
Not to mention, Trump's politics haven't been very popular in Virginia–he pulled his campaign out of the state weeks before the election, a move that was criticized by Stewart.