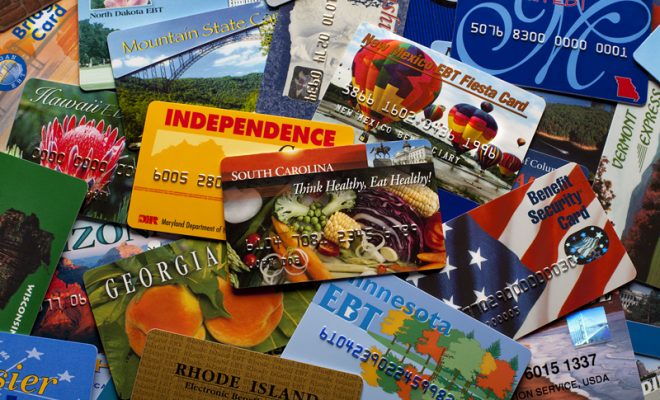 EBT Cards From Several States Courtesy of  : License Public Domain
Politics
Conservative Lawmakers Propose Stricter EBT Regulations
By
|
A Tennessee lawmaker is vying for control of what Electronic Benefits Transfer (EBT) cardholders can and cannot buy with federal dollars.
In January, State Rep. Sheila Butt introduced a bill that would ban Tennessee shoppers on public assistance from buying food with no perceived nutritional value. According to Butt, current rules allow taxpayer money to fund people's "unhealthy lifestyle choices."
"I go into convenience stores almost every day and see the most non-nutritional foods on the counters and in the aisles marked 'EBT Approved,'" said Butt. "By allowing their purchase with EBT cards, we are actually enhancing diabetes, high blood pressure, high cholesterol, and obesity in at-risk communities."
The Republican Majority Floor Leader of the Tennessee House of Representatives plans to model the prospective junk food ban off statewide standards for public school cafeterias. First-time offenders who buy prohibited items would be fined $1,000, while second and third offenses would amount to $2,500 and $5,000 fines, respectively. Grocers caught selling the forbidden foods would be subject to the same fines as shoppers.
Historically, Republicans haven't exactly been advocates of state welfare programs. GOP politicians, including House Speaker Paul Ryan and Congressman Mike Conaway, have been particularly critical of EBT cards, which are part of the federal Supplemental Nutrition Assistance Program (SNAP)–formerly known as the Food Stamp program.
Considering Trump's current administration, not to mention the Republican-controlled House and Senate, drastic alterations to EBT could very well happen under his term.
Within recent years, officials have suggested drug testing recipients to determine if they qualify for benefits. There has also been a reemergence of work requirements across the country. Today 22 states enforce that if you are an "able bodied person" between the ages of 18 and 49 with no dependents, and work less than 80 hours a month, then you are only eligible to use EBT benefits for three months out of every three years.
In June 2016 federal authorities rejected Maine Gov. Paul LePage's efforts to remove soda and energy drinks from EBT-approved items. In a scathing letter to the U.S. Secretary of Agriculture, the conservative leader blamed the Obama Administration and "junk food manufacturing interests," and threatened to overhaul Maine's EBT program altogether. LePage claimed that "billions" of taxpayer dollars are being spent on "candy and soda."
"It's time for the federal government to wake up and smell the energy drinks," said LePage in a letter to the U.S. Department of Agriculture, which funds SNAP programs "Doubtful that it will, I will be pursuing options to implement reform unilaterally or crease Maine's administration of the food stamp program altogether. You maintain such a broken program that I do not want my name attached to it."
Maine would have become the first state to pass such a provision. With 18 percent of Maine residents relying on EBT benefits (the third-highest rate in the United States after Oregon and Mississippi), LePage's failed motion had the potential to severely impair nearly one-fifth of Maine's population of 1.3 million.
While unhealthy foods encompass one side of the argument, Missouri Republican Rick Brattin would also like to prohibit users from buying certain "luxury" food items, such as steak and seafood. His intent is to bring EBT back to its original purpose: nutrition assistance. However, some critics consider this to be attack on poor people rather than a promotion of healthy eating habits.
"It just seems really repressive," said Mark Rank, a professor at Washington University and author of the book "Living on the Edge: The Realities of Welfare in America." "I don't see how it makes any sense to ban some of these foods. Fish is something that should really be in your diet. And steak, what does that mean in this context?"
As these political figures tout their efforts to promote health and wellness, they often overlook systematic challenges that low-income Americans face. The percentage of obesity in the United States has increased from about 13 percent to 35 percent since the early 1960s. Oftentimes, these poor eating habits can result from a range of societal issues including, but not limited to, insufficient healthy food options in economically-challenged areas, inconsistent work opportunities, and lack of education–all of which can fuel the multidimensional cycle of poverty.
Although one may expect geographically isolated areas known as "food deserts" to be the leading cause of EBT recipients buying junk food, Joe Cortright from the Atlantic thinks otherwise. He attributes the influx of obesity and diabetes in poor communities to household income and education as well. After these factors are taken into consideration, distance from nutritional food explains less than 10 percent of the variation in consumption of healthy foods. Therefore, perhaps politicians should devote more energy to providing work opportunities and educational training for America's poorest citizens, rather than punishing poor people with rigid diet restrictions.