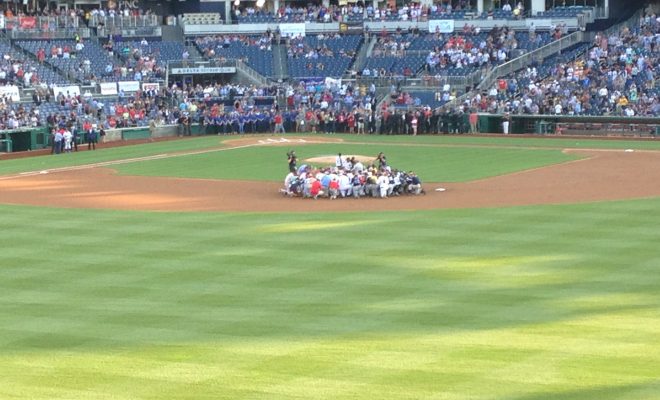 Image Courtesy of Alec Siegel for Law Street Media
Politics
The Congressional Baseball Game: Seven Innings of Unity
By
|
At Nationals Park on Thursday night, during the annual Congressional Baseball Game, Republicans and Democrats sat in opposite sections. But all rooted for one team: Team Scalise. For a few hours, just a day after House Majority Whip Steve Scalise (R-LA) was shot while practicing at a baseball diamond in the Virginia suburbs, the game was a rare moment of unity.
Before the first pitch, both teams trotted out to second base and huddled around each other for a moment of prayer. And after the game, which the Democrats won 11-2, the Democratic manager, Representative Mike Doyle (D-PA), gave the trophy to the Republicans to put in Scalise's office.
"Not here this evening, but in our thoughts and prayers–Steve Scalise," boomed the loudspeaker at the end of announcing the GOP's lineup. Both sides of the stadium responded with a raucous standing ovation. There were other unifying symbols: some members from both parties wore Louisiana State University hats and shirts, in a nod to Scalise's alma mater. Signs in both the Republican and Democratic sections read: "Scalise Strong" and "Team Scalise."
President Donald Trump delivered a video message to the 60 or so congressmen on the field: "By playing tonight, you are showing the world that we will not be intimidated by threats, acts of violence, or assaults on our democracy," Trump said. "The game will go on."
But not all of the record-setting 25,000 attendees felt that this fleeting moment of unity signaled a shift toward bipartisanship.
"The country is not going to get past partisanship," John Blasko, wearing a Washington Nationals jersey and carrying a blue, Democratic foam finger, told Law Street. "It's not going to happen." Blasko, who works in real estate and sells merchandise at Grateful Dead shows (he's been to 410, by his count) said partisanship in the U.S. "couldn't be worse."
Blasko is not hopeful Wednesday's shooting will lead to any significant change in the political climate, saying it "means nothing." But still, despite his fatalistic outlook, Blasko's parting words were befitting of a Grateful Dead die-hard: "everybody love everybody," he advised.
That sentiment seemed distant on Wednesday morning, when John Hodgkinson, a vocal Trump critic, stormed the GOP's practice in Alexandria, Virginia, with a rifle. He sprayed the field with bullets, hitting four, including Scalise and Capitol Police officer David Bailey, who threw the first pitch at Thursday's game. As of Thursday evening, Scalise remained in critical condition, and "will be in the hospital for some time," the hospital that is treating him said in a statement.
The stands on Thursday were full of hope for the future, in spite of Wednesday's attack.
Julian, a sophomore at Yale majoring in political science, said the political climate "could be better." Still, he told Law Street while munching on nachos early on in the game, "I don't think we're on a downward slope, I think we're going to be fine." He said the unity on display Thursday night is "one of those markers to the public that yes congressmen can be bipartisan, yes they can cooperate, yes they are friends in the office. They're not just bitter enemies."