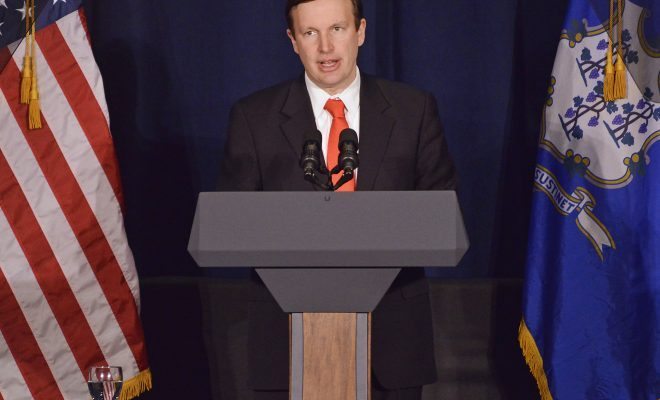 Image courtesy of [Western CT State University via Flickr]
Politics
Senator Chris Murphy's Gun Control Filibuster Lasts for Over 14 Hours
By
|
Senator Chris Murphy (D-Connecticut), filibustered for over 14 hours last night, in an attempt to force the Senate to take action on gun control. Murphy's filibuster, which was sparked by the recent mass shooting in Orlando, ended when the Senate leaders agreed to allow a vote on universal background checks and closing a recently-under-fire loophole that allows people on the terror watchlist to purchase guns.
I am prepared to stand on the Senate floor and talk about the need to prevent gun violence for as long as I can. I've had #Enough

— Chris Murphy (@ChrisMurphyCT) June 15, 2016
Murphy's monumental efforts–it was the 9th longest filibuster since 1900–were even joined by a few Republican Senators, specifically Senator Pat Toomey of Pennsylvania, and Senator Ben Sasse of Nebraska, along with 38 of Murphy's fellow Democrats. Each of these senators asked Murphy "questions" to give him a break from talking, although he still wasn't able to use the bathroom or sit down. Here's the full list of senators who joined the cause:
*UPDATED*
List of Senators who joined @ChrisMurphyCT as of 01:00am ET#filibuster#holdthefloorpic.twitter.com/pbTqvs8EFI

— Kasia (@KasiaMikurda) June 16, 2016
Murphy and his colleagues stayed remarkably on message during the 14-hour filibuster, often telling the stories of victims of gun violence. Murphy repeatedly invoked the tragic shooting at Sandy Hook in his home state, Connecticut–he even ended his stand by telling the story of one of the little boys killed in shooting. Check out that powerful clip:
There are concerns from both sides over the ideas, proposed by Senator Dianne Feinstein (D-California), that Murphy was advocating for. Not allowing people who are on the no-fly list to purchase guns gives more credence to that list, despite the fact that there's a lot of criticism about how inaccurate it is. After all, we've all heard stories about kids who end up on the no-fly list because they share a name with a terrorist. And while a four-year-old certainly has no need for a gun, overall due process concerns are fair.
History may look back on Murphy's stand as more of a political victory than a policy one. He took a strong, visible stand to advocate for a much-needed change to this nation's gun policies–and got people talking in the process.