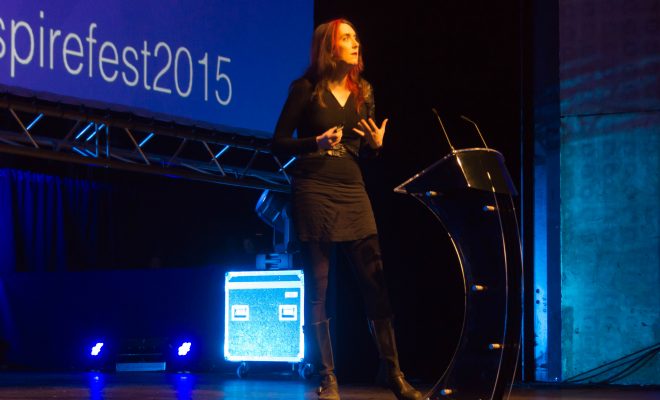 Image courtesy of William Murphy; License: (CC BY-SA 2.0)
Politics
"GamerGate" Target Brianna Wu is Running for Congress
By
|
Brianna Wu, a major figure in the "GamerGate" scandal, is planning to run for Congress in 2018, The Hill reports.
Wu, a Democrat from Massachusetts, announced her campaign via her Facebook page, by uploading a poster that included the quote: "She fought the alt-right and won. Now she's fighting for all of us."
In case you need a refresher on the GamerGate controversy, which was at its peak in 2014, it was a campaign of harassment against many prominent women in the gaming community that was allegedly born out of increasing participation of women in that community. Wu, who is an independent game developer, became well-known after becoming one of the targets of such harassment.
Wu has said that she received over 200 death threats in the wake of Gamergate, and saw her personal information, including her social security number and bank account info, leaked.
In an interview with the Boston Globe, Wu cited women's rights and harassment as major issues that she wanted to highlight in the campaign, stemming from her own experiences.
If elected to the House, I promise that I will be one of our nation's fiercest voices for women's rights, LGBT rights and #blacklivesmatter.

— Brianna Wu (@Spacekatgal) December 22, 2016
This is not Wu's first exposure to the political scene. Early in the Bush administration, she moved to DC to pursue a career in politics as a Republican. She claims that she quickly became discouraged by the Republican party, and left DC to finish her college education.
It is still not clear in what congressional district Wu plans on basing her campaign, but her race should be one to watch in 2018.
I've heard hundreds of times this week that my running for congress is giving people hope. pic.twitter.com/SLg0z2CIX1

— Brianna Wu (@Spacekatgal) December 22, 2016