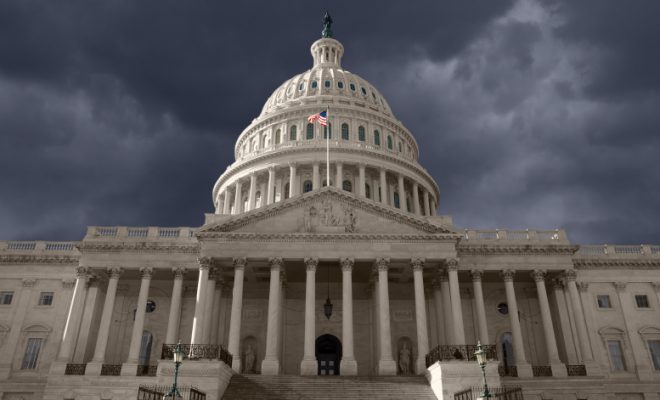 Image Courtesy of James Palinsad; License: (CC BY-SA 2.0)
Politics
Trump's Border Wall: the Issue That Could Shut Down the Government
By
|
As Congress returns from a two-week recess–the Senate returns on Monday, the House Tuesday–its legislative to-do list is stuffed to the brim. President Donald Trump is expected to propose a tax plan on Wednesday. He has suggested a revamped version of the Republican health care plan, which failed to hit the House floor for a vote last month, could be introduced this week. But foremost on Congress' agenda: passing a government spending bill and staving off a government shutdown, a prospect that would be deeply embarrassing for an administration that will see its 100th day in office on Saturday.
Funding for the government, absent a spending agreement, is set to run out on Friday. To avoid a shutdown–which last occurred in 2013 when congressional Republicans and former President Barack Obama were deeply divided–the White House will have to come to an agreement with Congress. Many Democrats and Republicans on Capitol Hill differ with the administration in their spending priorities, especially when it comes to Trump's long-promised border wall between the United States and Mexico.
Many GOP lawmakers, and most, if not all, Democrats oppose paying for the wall with funds from the government's coffers. Trump is adamant on following through on a promise that he sees as central to his election victory, however. On Sunday morning, the president reiterated his promise that Mexico will pay for the wall but asked for funding in the meantime:
Eventually, but at a later date so we can get started early, Mexico will be paying, in some form, for the badly needed border wall.

— Donald J. Trump (@realDonaldTrump) April 23, 2017
Attorney General Jeff Sessions, a security hawk who is generally seen as a hard-liner on immigration, recently said the wall will get funded "one way or another." On NBC's "Meet the Press," Reince Priebus, Trump's chief of staff, said: "We expect money for border security in this bill." Priebus added: "And it ought to be. Because the president won overwhelmingly. And everyone understands the border wall was part of it."
Mick Mulvaney, Trump's budget director, also insists the administration will push hard for the border wall to be included in a final budget agreement. "We want our priorities funded and one of the biggest priorities during the campaign was border security, keeping Americans safe and part of that was a border wall," he said on "Fox News Sunday." Mulvaney did add, however, that Trump would sign a bill that did not include funding for the wall. "I don't think anybody is trying to get to a shutdown. Shutdown is not a desired end. It's not a tool. It's not something that we want to have," he said.
On Friday, the administration floated a proposal to bridge the divide with Democrats–whose support for a final budget deal is vital to keeping the government afloat–on the border wall issue. For each dollar spent on the wall, according to the administration's offer, the government would spend a dollar on Obamacare subsidies. Through a spokesman, Sen. Chuck Schumer (D-NY), the minority leader, said the trade-off idea was a "complete non-starter."
Trump, who is still hoping to secure a legislative achievement by his 100-day mark, sent a tweet on Sunday morning that encapsulated his lack of leverage heading into the budget battle with Democrats:
ObamaCare is in serious trouble. The Dems need big money to keep it going – otherwise it dies far sooner than anyone would have thought.

— Donald J. Trump (@realDonaldTrump) April 23, 2017