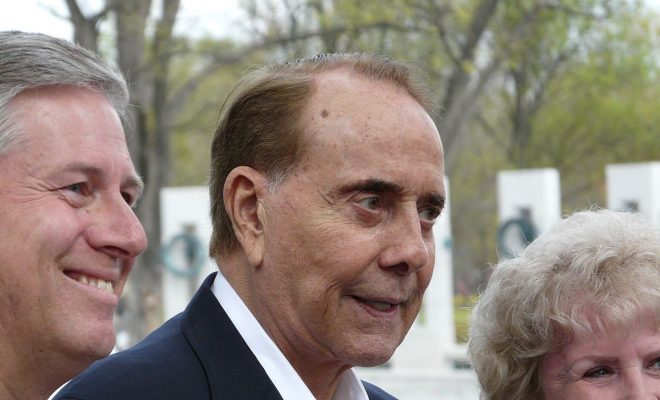 Image Courtesy of popejon2; License: (CC BY 2.0)
Politics
Bob Dole is the Unofficial Liaison Behind Trump's Call with Taiwan
By
|
The controversial phone call last week between President-elect Donald Trump and the President of Taiwan, Tsai Ing-wen, was no inexperienced blunder. In fact, it was the conclusion of a six-month effort from Taiwanese officials to inch closer to Trump and his staff, an effort that received an assist from an unlikely figure in U.S. politics: Bob Dole.
According to documents filed with the Justice Department before the call took place, Alston & Bird, the Washington D.C. law firm Dole lobbies for, had been coordinating communications between Taiwan and the Trump team since May. Working as the U.S. representative for Taiwan's unofficial embassy, Dole worked behind the scenes, nudging Taiwan closer and closer to Trump and his circle.
Dole, the Republican opponent to Bill Clinton in the 1996 presidential election, helped secure a Taiwanese delegation to attend the Republican National Convention in Cleveland in July.
An entire paragraph dedicated to Taiwan was also included in the Republican Party's platform this year that said: "We salute the people of Taiwan, with whom we share the values of democracy, human rights, a free market economy, and the rule of law." This friendly language was also the result of an assist from Dole.
"They're very optimistic," Dole said of the Taiwanese in an interview with The New York Times. "They see a new president, a Republican, and they'd like to develop a closer relationship."
Republicans have long pushed for warmer U.S.-Taiwan relations, which, since the 1979 One China policy, have been diplomatically stagnant. The U.S. does sell Taiwan military equipment, however, and promotes its democratic ideals.
Last week, Trump broke with nearly four decades of protocol by holding a phone conversation with Taiwan's president–Chinese officials called the move "petty." China considers Taiwan a breakaway province, and the U.S. recognized China's claim in 1979, severing formal diplomatic relations with Taiwan.
Dole, who is 93 years old, has lobbied on behalf of Taiwan for nearly 20 years. Between May to October of this year, Dole made $140,000 for his efforts, according to the disclosure documents filed by Alston & Bird.
"It's fair to say that we had some influence," Dole said, referring to the Trump-Tsai call. "When you represent a client and they make requests, you're supposed to respond."