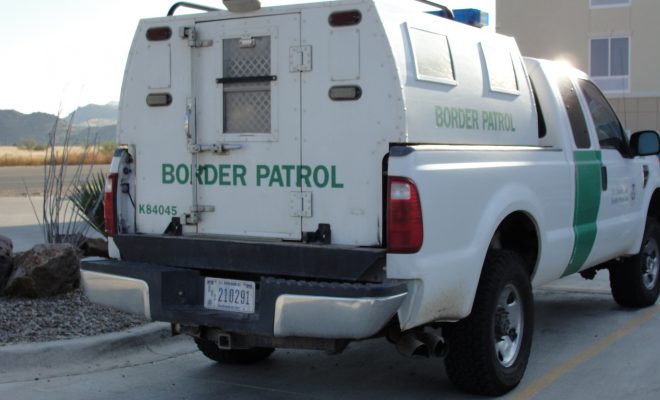 Image Courtesy of Frank Heinz; License: (CC BY 2.0)
Politics
Arrests of Undocumented Immigrants Jump 38 Percent in Trump's First Three Months
By
|
According to figures released by Immigration and Customs Enforcement on Wednesday, arrests of undocumented immigrants rose by 38 percent in the first three months of the Trump Administration, compared to the same time period last year.
A vast majority of those arrested, 41,318 from January 22 to April 29, have criminal records. But the number of detained non-criminal undocumented immigrants also rose sharply, reflecting the directive President Donald Trump issued in January that deemed any immigrant in the U.S. without documentation a priority for arrest and deportation.
"These statistics reflect President Trump's commitment to enforce our immigration laws fairly and across the board," Thomas Homan, the acting director of ICE, said in a statement. "If you look at the numbers, then men and women of ICE are still prioritizing these arrests in a way that makes sense," he added in a phone call with reporters after the figures were released.
Acting on his promise to strictly enforce immigration laws, Trump issued an executive order on January 25 "to employ all lawful means to enforce the immigration laws of the United States." The order effectively reversed an Obama Administration policy that directed ICE agents to prioritize for deportation undocumented immigrants convicted of violent crimes. Under Trump, all immigrants in the country illegally were subject to deportation.
Trump's crack-down on illegal immigration, a stance that helped propel him to the White House, has not been implemented with impunity, however. A recently-passed spending bill does not include funding for Trump's long-proposed border wall on the Mexican border. And federal judges throughout the country have stymied his efforts to ban or severely limit travel from a handful of mostly Muslim countries.
Still, Trump is on-track to match or surpass the arrests of undocumented immigrants at the Obama Administration's peak in 2013, when over 662,000 undocumented immigrants were arrested. After a pointed effort to focus only on high-level criminals, that number dropped in subsequent years.
And although the number of migrants crossing the southern border has precipitously dipped–which accounts for the 12 percent decrease in total deportations this year so far–the rise in arrests of non-criminal undocumented immigrants suggests a greater willingness to enforce the existing rules.
According to the ICE figures, over 10,800 undocumented immigrants without criminal records have been arrested so far. More than 2,700 have been convicted of violent crimes, however, including assault, rape, kidnapping, or murder.
But of those that made up the 38 percent jump in arrests during the first three months of the Trump Administration, over half had been immigrants without criminal records. Their only crime: being in the country without documentation.
Omar Jadwat, the director of the Immigrants' Rights Project at the American Civil Liberties Union, sees the increase in arrests as a way to beef up numbers without implementing a broader strategy. "What it tells me is that the department is willing to put enforcement numbers ahead of any kind of strategy that would actually try to keep us all safer going forward," he said.