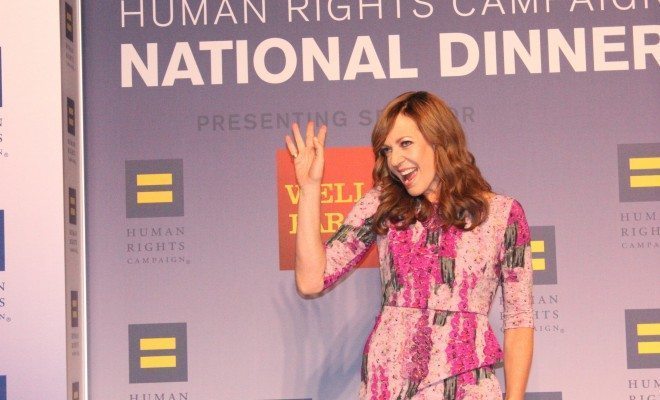 "Actor Allison Janney" courtesy of [Sarah Burris via Flickr]
Politics
Allison Janney Speaks About Substance Abuse at WH, Fulfills Our "West Wing" Dreams
By
|
Allison Janney fulfilled a lot of "The West Wing" fan fantasies today when she went to the White House and briefed the press corps as C.J. Cregg. For those of you who haven't watched "The West Wing," Cregg was Janney's Emmy-winning portrayal of the White House Press Secretary. Also those of you who haven't watched "The West Wing" should do so immediately, but that's a whole different point. But Janney's appearance in the White House briefing room wasn't just intended to cause nostalgic revelry for fans of the Aaron Sorkin classic. While borrowing current White House Press Secretary John Earnest's podium, Janney talked about combatting the incredibly serious opioid epidemic in the United States.
While Janney's reason for visiting was serious and apt, it didn't stop her from making some delightful references to the show. She began by telling the assembled press that she was filling in for Earnest because he had a root canal–a favorite funny moment from the show. She also promised that she would perform the "Jackal," another one of C.J. Cregg's trademark scenes.
But after just a few good-hearted jokes, Janney told the press why she was really there. She discussed the show she now stars on, called "Mom," which features recovery from substance abuse as a consistent theme. Janney also has a personal history with substance abuse recovery–her brother committed suicide after a long struggle with addiction. While at the podium, Janney explained that the White House is honoring 10 individuals as "Champions of Change" for their work to fight substance abuse and to help those who are now in recovery. Janney stated:
This is a disease that can touch anybody, and all of us can help reduce drug abuse through evidence-based treatment, prevention and recovery. Research shows it works, and courageous Americans show it works every day.
On her way out, one of the reporters asked Janney who President Jed Bartlett (played by Martin Sheen) would hypothetically support in the Democratic primary. Janney replied with all the grace and poise of her press secretary character, retorting: "I think you know the answer to that question." That quip could be a reference to the fact that her fellow "The West Wing" star, Bradley Whitford, has said that the fictional president would vote for Hillary Clinton. Whitford stated: "There's no doubt in my mind that Hillary would be President Bartlet's choice. Nobody is more prepared to take that position on day one."
Cregg's appearance, while certainly unexpected, was very welcome and entertaining–and supported a great cause. As the 2016 primaries drag on and just get more depressing, sometimes it's fun to be reminded of one of the best fictional presidents of all time.