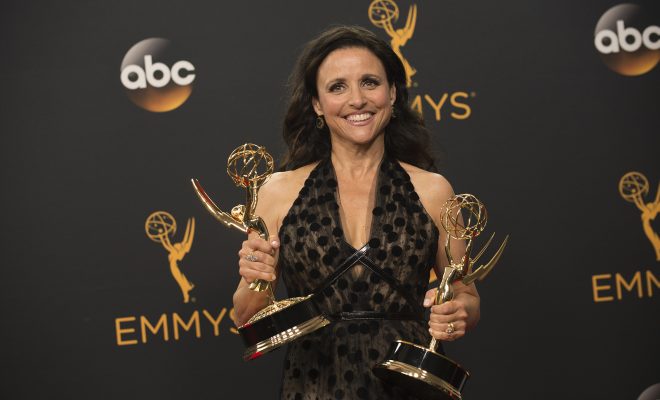 Image courtesy of Disney/ABC Television Group; License: (CC BY-ND 2.0)
Entertainment
A "Veep" Presidential Problem: Comedy in the Age of Trump
By
|
A new season of the hit TV show "Veep," starring Julia-Louis Dreyfus, will premiere this weekend. And given that politics in real life, with President Donald Trump in the White House, have become increasingly gaffe-worthy, many fans were nervous to see how the show would (or wouldn't) change. It actually turns out that one joke, about a "golden shower," had to be edited out, because it was just a little too on the nose given a story about Trump that broke just a few months ago.
A Hollywood Reporter guest column by David Mandel, the current "Veep" showrunner, described how it's difficult to tell if people are still willing to laugh at politics after Trump's election. After all, so many facets of the Trump Administration feel like they're straight out of a "Veep" storyline. Look no further for example, than the New York Times story about how Trump staffers: "confer in the dark because they cannot figure out how to operate the light switches in the cabinet room."
And after Press Secretary Sean Spicer recently made astonishingly stupid comments about the Holocaust, someone made a Spicer-"Veep" mashup that Dreyfus herself ended up tweeting out.
This feels like an Emmy winning episode to me.https://t.co/DU4o08Ot2P

— Julia Louis-Dreyfus (@OfficialJLD) April 12, 2017
But the new season of "Veep" will pick up with Selina Meyer, the main character, about a year after she lost her own election for president. And the writers and others involved in the show made it clear that they're glad to have a "former president" storyline instead of spoofing a real-life Trump.
However, Mandel did write about one specific storyline that had to be edited out:
So much of Veep is often just sitting around thinking: "What's the dumbest thing that could happen?" They're doing stuff that we couldn't invent if we tried. The only thing we did have to change –it sounds like a bad joke, but it's true–was a 'golden shower' joke in one of the episodes where someone is yelling at Jonah [Timothy Simons] about a golden shower. We hadn't filmed it yet, and we realized, 'Oh, we need to change that' [because of the Trump-Russia dossier]. Who knew we would literally have to change a Veep golden showers joke because of the real president of the United States of America? It doesn't get any weirder than that.
So, while "Veep" will come back this weekend, the show may feel a little different (although likely just as funny!) And there's only Trump's real life comedy to blame for that.