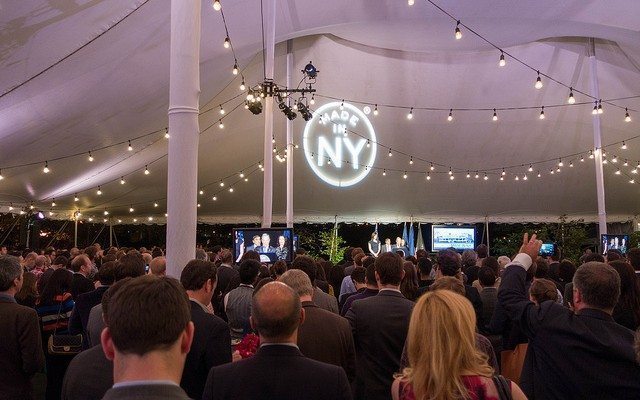 Blogs
"Made In NY" – A Techie's Paradise
By
|
Mayor Bloomberg has caught a lot of heat in the past few months with his efforts regarding the large soda ban, which ultimately failed. However, he has risen from the ashes as techie superhero.
In addition to introducing free Wi-Fi hotspots around New York City, the mayor of this great city announced his plan to keep the Big Apple ahead of the curve and establish its supremacy as an innovative tech hub.
With the infamous drummer of the roots, Questlove, by his side, Mayor Bloomberg announced his plans for the Made in NY Media Center, a space where "storytellers, creative professionals and entrepreneurs across multiple disciplines…can gather and create," pretty much whatever they want as long as it bolsters NY's image as an innovative techie paradise.
New York has been called the "business capital of the world", the "fashion capital of the world", and now Mayor Bloomberg hopes it will become the "global media capital of the digital age." Made in NY will be creating over 3,000 jobs and will be an innovative hub where ideas come to life. See for yourself.
With Questlove as Made in NY's first "Artist in Residence", Made in NY looks like it will begin to thrive down on 30 John Street in DUMBO. NYC is currently the second-most funded tech hub next to Silicon Valley, however NYC is a place where the possibilities are endless. With techie start-ups for new media, mobile gaming and other forward-thinking companies popping up out of the woodworks to make a name for themselves in NY, this city is becoming the place to go to turn an idea into a reality.
Made in NY promotes the film and television industries that provided much needed revenue to New York City for years, bringing in over $400 million in tax revenue. It is definitely an exciting time to be in NYC and it should be interesting to watch as the Made in NY Media Center grows and evolves.
—
Rob Anthony is a founding member of Law Street Media. He is a New Yorker, born and raised, and a graduate of New York Law School. In the words of Supreme Court Justice William O. Douglas, "We need to be bold and adventurous in our thinking in order to survive." Contact Rob at staff@LawStreetMedia.com.
Featured image courtesy of [Scott Beale via Flickr]