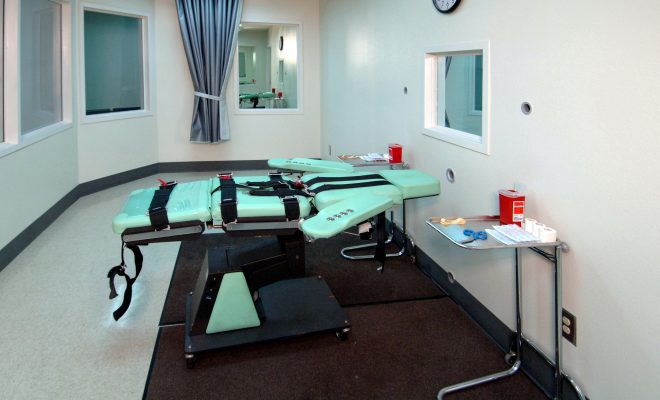 "Lethal Injection Room" Courtesy of Jacek Halicki : License: Public Domain
Law
Will Banning Judicial Override for Capital Cases Keep Alabama Out of Court?
By
|
As of April 11, Alabama no longer grants state judges the authority to override jury recommendations in capital cases. As one of her first acts as governor, Kay Ivey signed the SB16 bill into law and put an end to judicial override in capital cases in Alabama. The move was likely a preemptive response to shifting legal tides. Had Alabama not revised its laws, it would likely have faced fierce and ongoing battles in court.
Alabama, Florida, and Delaware are the only states to have ever allowed judicial override in capital cases. In the 2016 case Hurst v. Florida, the U.S. Supreme Court found Florida's sentencing scheme in violation of the defendant's Sixth Amendment right to trial by jury. In response to the high court's ruling, Delaware's Supreme Court ruled its state's sentencing scheme unconstitutional a few months later.
In the wake of Hurst v. Florida, the U.S. Supreme Court denied an appeal by an Alabama death row inmate who claimed he was sentenced under a scheme similar to Florida's. Alabama's Supreme Court upheld judicial override nine months later. In spite of these victories, it seems that Alabama was no longer willing to put resources toward defending judicial override in court.
Following Hurst v. Florida, the Florida legislature amended its sentencing practices to reinstate capital punishment. However, Delaware's General Assembly has yet to pass any such legislation, meaning there is an effective halt on the death penalty in the state. By amending its sentencing laws, Alabama has put an end to a recurrent legal battle and ensured the perpetuity of capital punishment in the state.
While Alabama has removed judicial override, its new sentencing practices could still face legal challenges. Following the chain of events set in motion by Hurst v. Florida, Alabama is now the only state that allows a jury to non-unanimously recommend the death penalty.
Before the Hurst v. Florida ruling, Alabama, Florida, and Delaware allowed a jury to recommend the death penalty with 10 of 12 votes. In the same ruling that banned judicial override, Delaware's Supreme Court deemed non-unanimous recommendations unconstitutional. While Florida's initial legislation preserved the practice, the Florida Supreme Court later found non-unanimous recommendations constitutional.
Alabama's Supreme Court would almost certainly uphold non-unanimous death penalty recommendations, and the U.S. Supreme Court has not explicitly ruled on the matter. The overwhelming consensus against the practice suggests Alabama could once again find itself in court.