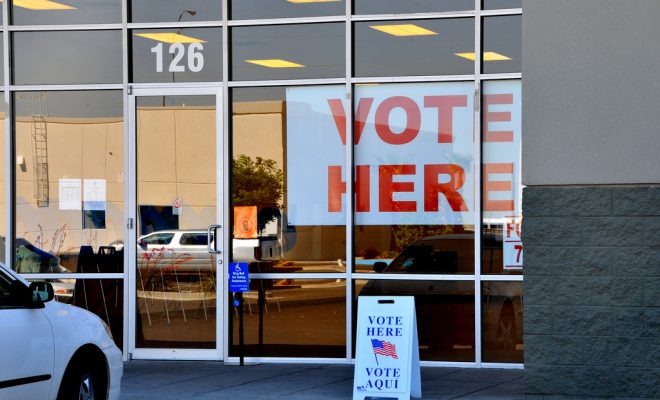 "Early Voting" courtesy of Hadley Paul Garland; License:  (CC BY-SA 2.0)
Law
Federal Judge Rules that Texas' Voter ID Law is Discriminatory
By
|
Judge Nelva Gonzales Ramos of the United States District Court for the Southern District of Texas just ruled that Texas' voter ID law intentionally discriminates against minority voters and violates the federal Voting Rights Act. The 2011 law has been thrown out as unconstitutional, and there's the chance that Texas' voting laws could once again be put under the purview of the federal government.
The law was passed by the Texas legislature in 2011 but didn't go into effect until 2013. It required that all voters show some sort of government-issued photo ID before casting a vote, such as a driver's license or passport. Since its inception, it has been controversial, sparking a drawn out legal battle. Critics point out that black and Hispanic voters are less likely to have those forms of identification. Judge Ramos ruled that the law was enacted with the intent to discriminate against minority voters.
The suit was brought by a number of plaintiffs, including the Texas State Conference of NAACP Branches, the Mexican American Legislative Caucus of the Texas House of Representatives, La Union del Pueblo Entero and League of United Latin American Citizens, several individual voters, and Dallas County.
If you're feeling a bit of Texas voter ID law deja vu, you're not wrong. This is actually the second time that Ramos has ruled on this law. She ruled on it in 2014 as well, and then the 5th Circuit Court of Appeals, located in New Orleans, sent it back to her. That court "found that Judge Ramos had relied too heavily on Texas' history of discriminatory voting measures and other evidence it labeled 'infirm' and asked her to reweigh the question of discriminatory intent." She once again found that the law is discriminatory.
The state of Texas is expected to appeal her decision again, but this could set Texas up for federal monitoring of its voting laws. The Voting Rights Act used to require that certain states–Alabama, Alaska, Arizona, Georgia, Louisiana, Mississippi, South Carolina, Texas, and Virginia–that had a history of passing discriminatory voting laws had to get federal approval before changing their voting laws. In 2013, the Supreme Court struck down the provision that required such "preclearance" but if a state is found to have passed a law that is intentionally discriminatory, it could be subject to that oversight once again.