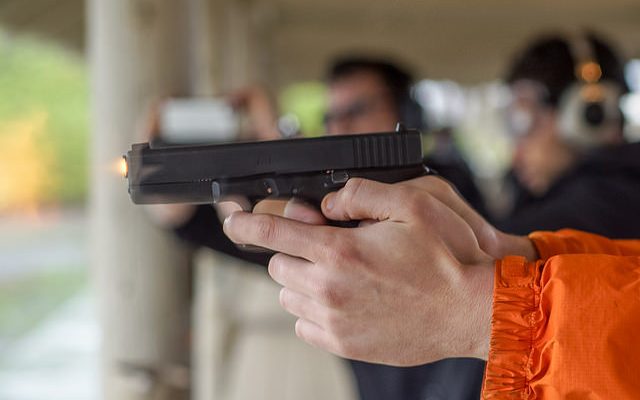 "Gun Club" Courtesy Peretz Partensky License: (CC BY-SA 2.0)
Law
Texas Judge Rules Residents Can Carry Concealed Handguns on College Campuses
By
|
A federal district court judge in Texas upheld a state law allowing residents to carry concealed handguns on university campuses on July 7, after three University of Texas at Austin professors sought to ban guns from their classrooms.
The plaintiffs, Professors Jennifer Glass, Lisa Moore, and Mia Carter, argued that "classroom discussion will be narrowed, truncated, cut back, cut off" if guns are allowed in classrooms. The defendants, including Texas Attorney General Ken Paxton, UT-Austin President Gregory Fenves, and the university's Board of Regents, defended the law's implementation at UT-Austin.
U.S. District Judge Lee Yeakel said the plaintiffs had not demonstrated that they had suffered an "injury in fact" and had not established that there was a "causal connection between the injury and the conduct complained of" that could be traced to the defendants.
In other words, the plaintiffs failed to show beyond speculation that they would be harmed by the concealed carry of handguns, or that concealed carry could be connected to having a "chilling effect" on classroom discussions. Therefore, Yeakel ruled that the "plaintiffs present no concrete evidence to substantiate their fears" and that they did not have standing to sue the defendants.
"The court's ruling today is the correct outcome," Paxton said in a statement. "The fact that a small group of professors dislike a law and speculate about a 'chilling effect' is hardly a valid basis to set the law aside."
Texas passed a law in 2015 allowing licensed concealed handgun owners who are at least 21 years old to carry a concealed handgun on campus. The law prohibits institutions from creating rules that restrict gun owners' right to carry a concealed handgun on campus, except for rules pertaining to the storage of handguns in dorms and residence halls.
The controversial bill was met with opposition from gun control advocates, but gun rights supporters won out in the end when Governor Greg Abbott signed the bill into law in June 2015. Still, the fight against the "campus carry" law continued. UT-Austin students protested the law in August 2016 by organizing a "Cocks Not Glocks" demonstration during which they handed out more than 4,500 donated dildos, according to the Texas Tribune.
"We want these dildos on backpacks as long as there are concealed handguns in backpacks," UT-Austin student Ana López, who helped organized the protest, told the Texas Tribune at the time.
Under UT policies, the concealed carry of handguns is permitted on campus and in university buildings, but is prohibited in all on-campus residence halls, with some exceptions: staff members and visiting family members may carry a concealed handgun, and concealed carry of handguns is permitted in common areas. Unless the plaintiffs appeal the ruling, concealed carry will remain at UT-Austin and other Texas universities.