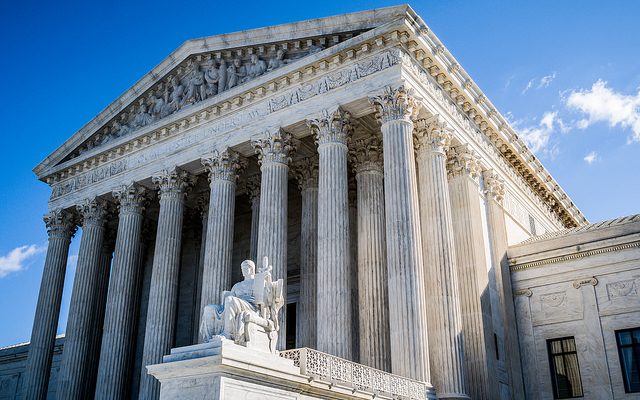 Image Courtesy of Phil Roeder : License (CC BY 2.0)
Law
Supreme Court Rejects Appeal for North Carolina Voter ID Law
By
|
The U.S. Supreme Court delivered the final knockout blow to North Carolina's restrictive voter ID law Monday, declining once again to hear an appeal from state Republicans to reinstate it. The move thereby upholds a lower court's ruling that found the law had intentionally been designed to restrict black voters.
The law, which was enacted in 2013 by a Republican-controlled legislature, was struck down last year after a federal appeals court found that key parts of the law were to "target African Americans with almost surgical precision."
Chief Justice John Roberts cited a "blizzard of filings over who is and who is not authorized to seek review in this Court under North Carolina law" as the Court's reasoning for refusing to weigh in on North Carolina, et al. v. North Carolina State Conference of the NAACP, et al. Roberts, however, was careful to note that the court's refusal did not constitute an opinion on the "merits of the case."
North Carolina's law had required voters to present a government-issued photo identification at the polls, but excluded forms of identification that happened to be used disproportionately by African Americans. For example, driver's licenses, passports, and military identification cards were permitted, but not public assistance cards. It also shortened the early voting period and did away with same-day voter registration, among other things.
North Carolina, along with a string of other states, enacted voting restrictions like these shortly after a Supreme Court decision effectively struck down an integral part of the Voting Rights Act, diminishing federal oversight of voting rights. In late August, a deadlocked Supreme Court declined to reinstate North Carolina's voting restrictions. The court was divided 4 to 4, with the court's more conservative judges voting to revive parts of the law.
Proponents of these kinds of measures avow that they are intended purely to prevent voter fraud, not act as discrimination. However, a study of 2,068 alleged election-fraud cases in 50 states between 2000 and 2012 found the level of fraud was "infinitesimal compared with the 146 million registered voters in that 12-year span." The analysis found only 10 cases of voter impersonation, the only kind of fraud that could be prevented by voter ID at the polls.
In lieu of the Supreme Court's decision, Republican lawmakers in North Carolina are now eager to enact new voter restrictions. In other words, the battle over voter ID laws is hardly over.