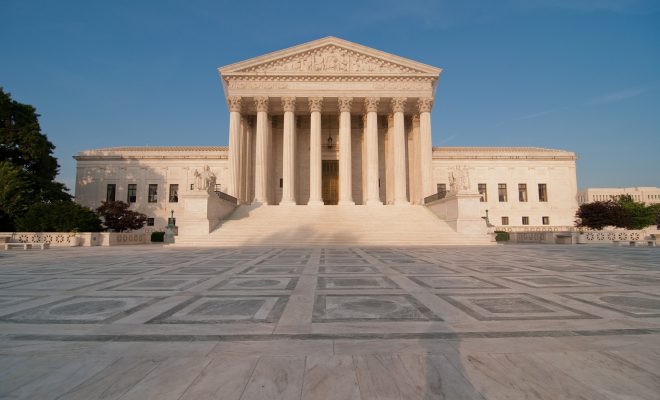 "Supreme Court"Courtesy of Mark Fischer; License: (CC BY-SA 2.0)
Law
Supreme Court Reinstates Parts of Trump's Travel Ban, Will Hear Case in Fall
By
|
The Supreme Court announced Monday that it will hear President Donald Trump's travel ban case. The hearing will be in October, and until then, the court said parts of the ban will be allowed to go into effect. Trump issued a revised executive order in March, blocking travel from six countries. Two federal courts have since ruled that the ban is unconstitutional and a breach of executive power. The Supreme Court agreed to examine both courts' decisions.
For the time being, the ban will be reinstated "with respect to foreign nationals who lack any bona fide relationship with a person or entity in the United States," the justices said. A bona fide relationship includes "a close familial relationship" for individuals. For entities, "the relationship must be formal, documented, and formed in the ordinary course, rather than for the purpose of evading [the order]."
"The students from the designated countries who have been admitted to the University of Hawaii have such a relationship with an American entity," the court added.
Trump's second attempt at stemming travel from a handful of Muslim-majority countries reined in a few of the tenets of his first order, which was originally issued in January. For one, the revised order dropped Iraq from the list of affected countries–Iran, Libya, Yemen, Somalia, Sudan, and Syria.
The order stipulates that residents of the six countries are barred from traveling to the U.S. for 90 days, until stricter vetting procedures are in place. The refugee program will be halted for 120 days, and the number of admitted refugees will drop to 50,000 from about 110,000.
This is Trump's first travel ban-related victory since he issued the updated order in March. Both orders faced a torrent of opposition–thousands of people hit the streets and packed airports across the country in protest. Trump's directive fared no better in the courts.
Last month, a federal appeals court, the Fourth Circuit in Richmond, Virginia, issued an injunction on parts of the travel ban, arguing that it "drips with religious intolerance, animus, and discrimination" and violated the First Amendment.
A few weeks ago, the Ninth Circuit Court of Appeals in San Francisco ruled that the ban violated the president's authority as granted by Congress. The court said Trump "did not meet the essential precondition in exercising his delegated authority," which requires "a sufficient finding that the entry of these classes of people would be 'detrimental to the interests of the United States.'"