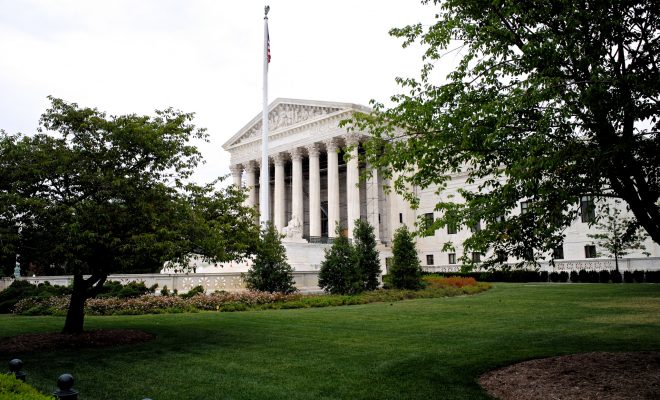 Image Courtesy of Roman Boed; License: (CC BY 2.0)
Law
Supreme Court Finds Racial Bias in North Carolina Gerrymandering
By
|
On Monday, in a 5-3 decision, the Supreme Court struck down two mapped congressional districts in North Carolina on the grounds that Republican lawmakers drew them with the intention of diluting the African-American vote. In affirming a lower court's decision, the justices found a narrow–and contentious–distinction between redistricting for political benefit, and redistricting with the intent to harm a certain slice of the electorate based on race.
The case, Cooper v. Harris, was the latest involving racially-motivated gerrymandering to reach the Supreme Court. According to the 1965 Voting Rights Act, state legislatures can redraw congressional districts based on a number of factors, partisanship being the most common. But although race can be one of a smattering of factors when redrawing a state's districts, it can not be the predominant one.
"The sorting of voters on the grounds of their race remains suspect even if race is meant to function as a proxy for other (including political) characteristics," Justice Elena Kagan wrote in the majority opinion. She was joined by Justices Clarence Thomas, Ruth Bader Ginsburg, Stephen Breyer and Sonia Sotomayor.
The North Carolina districts in question include one of the state's largest, District 1, and one of its smallest, District 12. Both are currently held by black Democrats, G.K. Butterfield and Alma Adams, respectively. According to Kagan, the Republican-held General Assembly fashioned the new congressional map after the 2010 census to devalue the black vote.
In District 1, after the census, black people of voting age rose from 48.6 percent to 52.7 percent. In District 12, the percentage of voting-age black residents hit 50.7 from 43.8. Republicans argue that tilting the districts majority-black is within their legal limits, because distinguishing the black vote from the Democratic vote–a vast majority of black voters support Democratic candidates–is almost impossible.
Justice Samuel Alito argued that same point in his dissenting opinion: "If around 90 percent of African-American voters cast their ballots for the Democratic candidate, as they have in recent elections, a plan that packs Democratic voters will look very much like a plan that packs African-American voters."
He added: "If the majority party draws districts to favor itself, the minority party can deny the majority its political victory by prevailing on a racial gerrymandering claim." Alito was joined in dissent by Chief Justice John Roberts and Justice Anthony Kennedy. Justice Neil Gorsuch, the court's newest member, did not participate, because the case was argued on December 5, months before he was confirmed.
The court's decision was welcome news for Butterfield and Adams. Butterfield said the decision "clearly reaffirms my position that the Republican-controlled state legislature unlawfully used race as the predominant factor" in gerrymandering. And Adams called for an independent redistricting commission in North Carolina, saying, "we should be working together to make access to the ballot box easier and more fair."