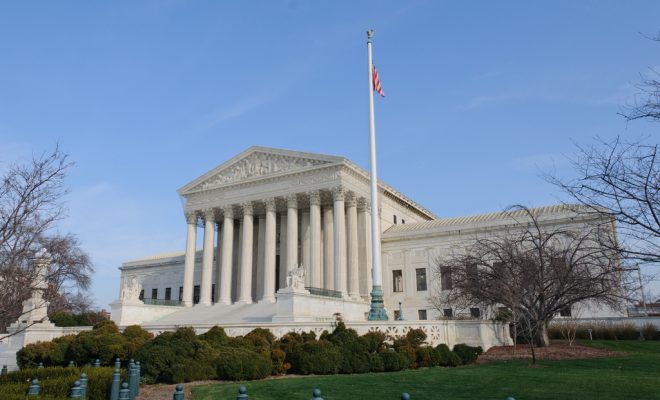 Image Courtesy of Richard Gillin; License: (CC BY-SA 2.0)
Law
Supreme Court Rules in Favor of Two LA Cops Who Shot a Homeless Couple
By
|
In a unanimous decision, the Supreme Court on Tuesday scrapped a ruling by a lower federal court that deemed otherwise reasonable force by a police officer unreasonable if the officer "intentionally or recklessly provokes a violent confrontation." The justices sent the case back to the Ninth Circuit Court of Appeals in San Francisco, leaving open a victory for the plaintiffs if the court can find wrongdoing on charges other than excessive force.
The case, County of Los Angeles vs. Mendez, involves an incident that took place in October 2010. Los Angeles County police officers were searching a residence for a parole violator who was at-large and apparently armed. A number of officers searched the main area while two deputies, Christopher Conley and Jennifer Pederson, burst into a shack in the back of the residence.
In the shack, a homeless couple, Angel Mendez and Jennifer Garcia, who was pregnant, were taking a nap underneath a heap of blankets. Mendez reached for a gun (later discovered to be a BB gun). Conley yelled "Gun!" and the deputies sprayed the couple with bullets.
Both lived, but Mendez had to get part of his leg amputated. Meanwhile, the parolee the officers were seeking was not found on the property. Mendez and Garcia sued the deputies and Los Angeles County on three Fourth Amendment claims: warrantless entry, knock-and-announce, and excessive force. The lower courts ruled in favor of the plaintiffs on all three counts, awarding the couple $4 million.
But the Supreme Court, in a 8-0 vote–Justice Neil Gorsuch had not been confirmed when the case was argued in March–vacated the lower courts' excessive force ruling. In its ruling, the Ninth Circuit argued the officers' use of force was reasonable, but because the two deputies provoked the situation, their actions were ultimately unreasonable. The justices disagreed with that outlook, halting the $4 million recovery for the plaintiffs.
"The basic problem with the provocation rule," Justice Samuel Alito wrote, is that it "provides a novel and unsupported path to liability in cases in which the use of force was reasonable." He said the Fourth Amendment "provides no basis for such a rule," adding: "A different Fourth Amendment violation cannot transform a later, reasonable use of force into an unreasonable seizure."
In a statement, the Association for Los Angeles Deputy Sheriffs cheered the decision: "This invented rule put the lives of deputies into danger by causing them to hesitate in using reasonable force to defend themselves for fear of later civil liability," it said.
Alito did allow, however, that the Ninth Circuit could still find reason to award damages to the plaintiffs. He wrote: "For example, if the plaintiffs in this case cannot recover on their excessive force claim, that will not foreclose recovery for injuries proximately caused by the warrantless entry."