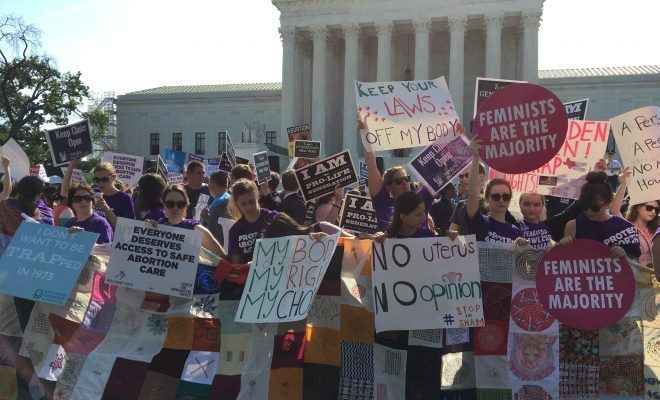 Image Courtesy of Julia Bryant via Law Street Media
Law
SCOTUS Strikes Down Texas Abortion Restrictions
By
|
This post is part of Law Street's continuing analysis of the recent Supreme Court rulings. To read the rest of the coverage click here.
---
Abortion Restrictions: Whole Woman's Health v. Hellerstedt
The decision: In a 5-3 ruling, the Supreme Court struck down Texas's restrictive regulations on abortion clinics. Justices Stephen Breyer and Anthony Kennedy joined Ruth Bader Ginsburg, Sonia Sotomayor, and Elena Kagan to provide the majority necessary to overturn Texas's House Bill 2. The ruling concluded that the restrictions placed an undue burden on women seeking an abortion.
History of the law:
In 2013, Texas legislators passed HB2, which placed many restrictions on abortion clinics, such as:
Requiring doctors who perform abortions to have admitting privileges at a hospital that is no more than 30 miles away.
Requiring that an abortion facility meets the same minimum standards as ambulatory surgical centers.
HB2 has caused roughly half of the abortion clinics in Texas to close, leaving many women, especially in rural areas of the state, without reasonable access to an abortion.
Whole Woman's Health, a private abortion provider, sued the state of Texas over these restrictions. The 5th U.S. Circuit Court of Appeals had previously upheld the law.
What were the arguments?
Texas legislators argued that these regulations were added to make women safer when getting an abortion. They also argued that these restrictions did not impose a burden on women seeking an abortion.
However, opponents of the legislation argued there is no evidence that these regulations will lead to increased safety without imposing serious consequences on women. In addition, opponents argued that an abortion is no more dangerous than many other medical procedures that are not subject to such strict regulations.
The American College of Obstetricians and Gynecologists, American Medical Association, American Academy of Family Physicians, and American Osteopathic Association all filed an amicus brief saying that HB2's ambulatory surgical center requirement "imposes medically unnecessary demands on abortion facilities and serves no medical purpose."
What about all of the other states' regulations?
Several states around the country have laws similar to Texas's (although some are currently blocked) and if they are deemed similar enough, they will most likely be thrown out or will suffer intense hurdles in order to become lasting laws.
However, lawmakers have found ways to increase restrictions on abortions even after other landmark abortion cases, so time will tell if this ruling will make a large impact nationwide.
Strong opinions on both sides
Justices Clarence Thomas and Samuel Alito offered dissenting opinions. However, unlike Thomas, who would've upheld the previous ruling, Alito and Chief Justice John Roberts would have sent it back to the lower courts for further discussion.
"The Court has simultaneously transformed judicially created rights like the right to abortion into preferred constitutional rights, while disfavoring many of the rights actually enumerated in the Constitution," Thomas wrote in his scathing dissent.
On the other side, Breyer wrote in the majority opinion that the Texas restrictions "vastly increase the obstacles confronting women seeking abortions in Texas without providing any benefit to women's health capable of withstanding any meaningful scrutiny."
Ginsberg offered up a concurring opinion as well.
"Given those realities, it is beyond rational belief that H.B. 2 could genuinely protect the health of women, and certain that the law 'would simply make it more difficult for them to obtain abortions,'" she wrote. "When a State severely limits access to safe and legal procedures, women in desperate circumstances may resort to unlicensed rogue practitioners, faute de mieux, at great risk to their health and safety."
You can read the full opinion here.